You are about to hear how Prime Video is turning up the volume on what people say on TV a whole lot better on programs you watch. Companies all over the world have been working hard to improve their accessibility features so that more of us can enjoy their services, and Amazon is the latest business to cater to the needs of those who are hard of hearing. Even if you have perfect hearing, you may want to consider using its new Dialogue Boost feature.
CLICK TO GET KURT'S FREE CYBERGUY NEWSLETTER WITH QUICK TIPS, TECH REVIEWS, SECURITY ALERTS AND EASY HOW-TO'S TO MAKE YOU SMARTER
What is Dialogue Boost?
Dialogue Boost is a new feature that is being introduced within Amazon Prime Video that will allow you to select dialogue volume levels to suit your hearing needs on any device. The feature is initially being launched on Amazon Original shows and movies worldwide, and it will help you hear the dialogue much better over the background music and special effects happening on the content you are watching.
5 THINGS YOU DIDN'T KNOW YOU CAN DO ON AN ANDROID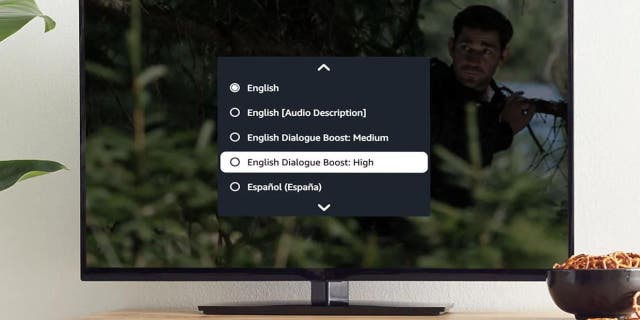 Amazon Prime offers a new feature for the hearing impaired. (Amazon)
MORE: HOW TO PICK WHICH WIRELESS EARBUDS ARE BEST FOR YOU
How does Dialogue Boost work?
The technology is designed specifically for Dialogue Boost to analyze the audio within a movie or TV show and pick out points where the dialogue might be harder to hear. It then isolates the speech patterns and enhances the audio to make the dialogue sound clearer to you.
DALLE-2 VS. BING CREATOR – WHICH COMES OUT ON TOP IN THIS AI SHOWDOWN?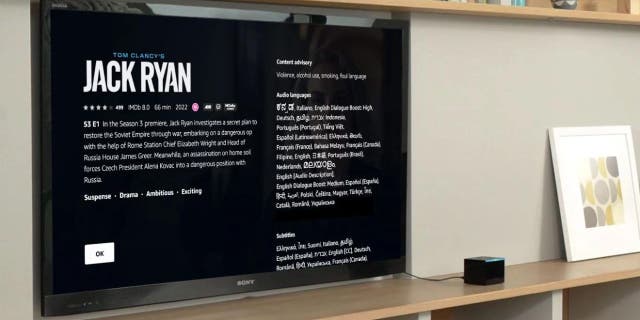 Amazon offers Dialogue Boost which isolates audio that may be harder to hear and enhances the audio. (Amazon)
It specifically focuses on certain portions of the dialogue that may be harder to hear rather than generally amplifying the entire thing. You can make the feature work whether you're watching Prime on your phone, tablet, laptop, or TV.
MORE: 5 BEST HEADPHONES TO BOOST YOUR LISTENING FOR 2023
How can I activate Dialogue Boost?
Once you're watching something on Prime Video, you can choose which Dialogue Boost level you want. You will have a choice between English Dialogue Boost: Medium and English Dialogue Boost: High.
NEWLY UNEARTHED IPHONE SPYWARE TOOL SOLD TO GOVERNMENTS FOR TARGETED SURVEILLANCE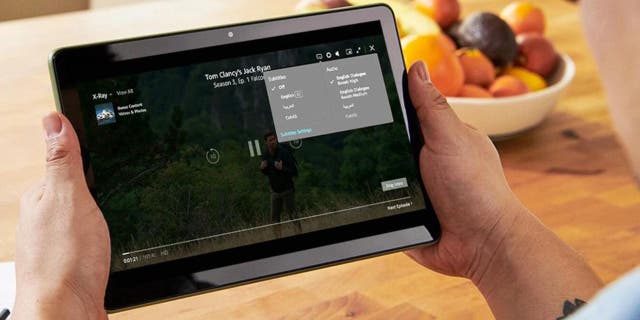 Photo of a man activating Dialogue Boost on his tablet. (Amazon)
This feature is only available on Amazon Originals as of now, such as Jack Ryan and The Marvelous Mrs. Maisel. However, it will be available for more titles later this year. Here's how to access the feature.
On your screen, hover over the Subtitles and Audio icon and click it
Under Audio, choose whether you want English Dialogue Boost: Medium or English Dialogue Boost: High
Continue playing what you're watching and the feature will begin working automatically
MORE: THE RIGHT WAY TO LISTEN TO A PODCAST
Final thoughts
I think Amazon's new Dialogue Boost feature on Prime Video is a great step to significantly improving accessibility for those who have trouble hearing. While currently available only on Amazon Originals, the feature is expected to be expanded to more titles in the future, showcasing Amazon's commitment to inclusivity in its services. I hope more companies follow Amazon's lead.
CLICK HERE TO GET THE FOX NEWS APP
Have you tried this new feature on Amazon Prime yet? Let us know by writing us at CyberGuy.com/Contact .
FOR MORE OF MY TIPS, SUBSCRIBE TO MY FREE CYBERGUY REPORT NEWSLETTER BY HEADING TO CYBERGUY.COM/NEWSLETTER
Copyright 2023 CyberGuy.com. All rights reserved.