Beer juggernaut Anheuser-Busch has seen its value nosedive nearly $5 billion since Bud Light's polarizing partnership with transgender activist Dylan Mulvaney.
According to the Dow Jones Market Data Group, Bud Light's parent company is down 4.7 percent and has lost about $4.56 billion in market cap since March 31.
The beer maker's stock shed more than 1.5% on Wednesday alone. The stock was $66.73 per share on March 31 and closed at $63.38 on Wednesday.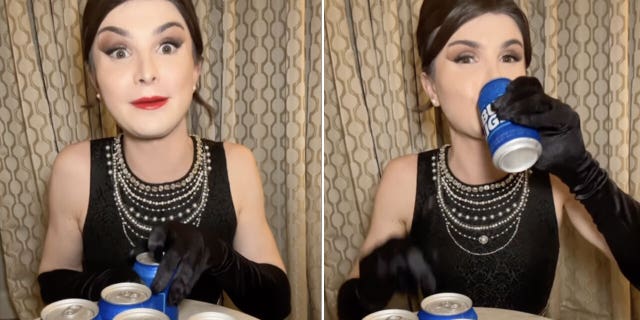 Anheuser-Busch set social media ablaze when beer juggernaut Bud Light celebrated transgender activist Dylan Mulvaney's "365 Days of Girlhood" with a polarizing promotion. (Instagram)
BUD LIGHT'S DYLAN MULVANEY CONTROVERSY HITS RURAL DISTRIBUTORS AS BRANDING GURU THINKS CONSUMERS ARE CONFUSED
An analysis on the matter was first published in the New York Post.
Mulvaney, a trans activist and social media influencer who gained prominence when given an opportunity to interview President Biden about LGBTQ issues in 2022, revealed earlier this month that the beer company sent packs of Bud Light with her face printed on the cans as part of an ad for the beer company's March Madness contest and as a way to celebrate a full year of "girlhood."
Mulvaney said the cans were her "most prized possession" on Instagram with a post featuring "#budlightpartner." A video then featured Mulvaney in a bathtub drinking a Bud Light beer as part of the campaign, but the pact was met with significant criticism.
Anheuser-Busch stock plummeting comes as country music singer John Rich said he pulled cases of Bud Light from his Nashville, Tennessee, bar as part of a boycott against Anheuser-Busch; conservative rocker Kid Rock used several Bud Light cases for target practice in a viral video; and there has been widespread backlash on social media while beer distributors are concerned.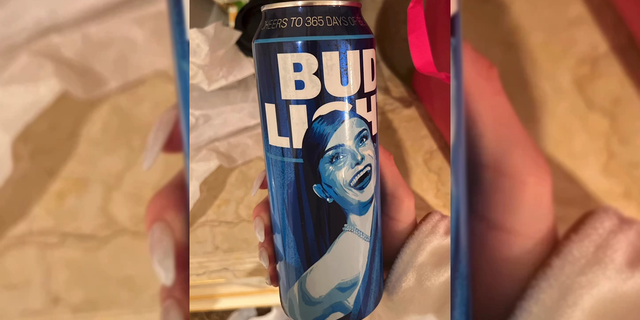 A picture of the commemorative Bud Light can featuring TikTok influencer Dylan Mulvaney.  (Dylan Mulvaney/Instagram)
Anheuser-Busch did not immediately respond to a request for comment about its stock. The company had previously stood by the decision.
COUNTRY MUSIC STAR PULLS BUD LIGHT FROM NASHVILLE BAR AMID DYLAN MULVANEY PARTNERSHIP: 'THEY AREN'T ORDERING'
"Anheuser-Busch works with hundreds of influencers across our brands as one of many ways to authentically connect with audiences across various demographics. From time to time we produce unique commemorative cans for fans and for brand influencers, like Dylan Mulvaney. This commemorative can was a gift to celebrate a personal milestone and is not for sale to the general public," an Anheuser-Busch spokesperson told Fox News.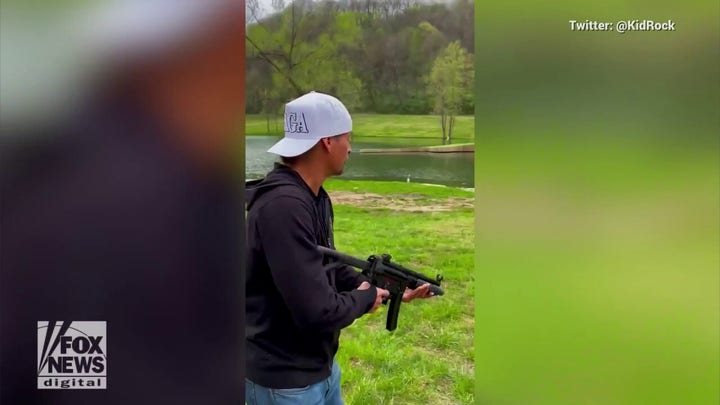 Video
Beer Business Daily editor and publisher Harry Schuhmacher wrote earlier this week that Anheuser-Busch distributors in rural areas are "spooked" over the backlash.
"This is probably the biggest controversy we've seen in a long time," Schuhmacher told Fox News Digital. "There was a little bit of worry, especially in the South and the Midwest and especially in rural areas where retailers were reporting the, you know, their customers weren't happy with Bud Light and some retailers themselves weren't happy with Bud Light."
COUNTRY MUSIC STAR PULLS BUD LIGHT FROM NASHVILLE BAR AMID DYLAN MULVANEY PARTNERSHIP: 'THEY AREN'T ORDERING'
GOP presidential hopeful Vivek Ramaswamy scolded Bud Light on Wednesday in an opinion piece for Fox News Digital.
"Now the King of Beers is paying homage to the newest cultural zeitgeist by paying trans activist Dylan Mulvaney to prod grown men into dressing like Audrey Hepburn while drinking beer. For a drink that was once a blue-collar staple of middle America, this isn't a winning sales strategy. It's a way for the CEO to signal his virtue while alienating a customer base that is too afraid to say so out loud," Ramaswamy wrote.
CLICK HERE TO GET THE FOX NEWS APP
Fox News' Alexander Hall and Suzanne O'Halloran contributed to this report.