Reps. Alexandria Ocasio-Cortez, D-N.Y. and Dan Crenshaw, R-Texas, are forming an unlikely alliance, teaming up in a bid to allow troops access to psychedelic drugs.
"Psychedelics have shown so much promise," Ocasio-Cortez said of the effort, according to a report from the New York Daily News. "We desperately need the resources to treat PTSD, traumatic brain injury and depression. At least one in two PTSD patients cannot tolerate or do not respond adequately to existing treatments."
The progressive lawmaker's comments come as the military and Department of Veterans Affairs grapple with the growth of post-traumatic stress disorder in the ranks, an ailment that has doubled among veterans of Iraq and Afghanistan compared to Vietnam-era veterans. According to the VA and the Centers for Disease Control and Prevention, over 450,000 combat veterans have suffered from a some sort of traumatic brain injury between 2000 and 2021.
ONLY FOUR DEMS VOTE WITH GOP TO PASS DEFENSE POLICY BILL ROLLING BACK ABORTION POLICY, 'WOKE' INITIATIVES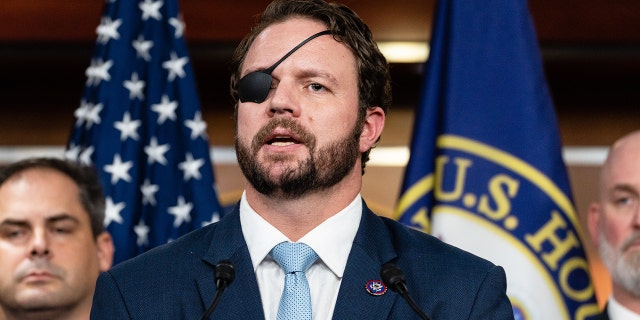 Rep. Dan Crenshaw (Eric Lee/Bloomberg via Getty Images)
ARMY VETERAN GOP REP SAYS US TRYING TO 'OUT-PRONOUN OUR ENEMIES' IN PUSH TO END MILITARY DEI PROGRAM
"I was turned on to this issue because I had so many friends… who were going down to a specific clinic and doing ibogaine – one treatment of ibogaine would cure them," Crenshaw said.
The duo targeted this year's National Defense Authorization Act to introduce their proposal, managing to get a "watered-down version" of the bill they authored into the massive yearly legislation.
"I know the power of this community to rise up and make itself heard," Ocasio-Cortez said.