A seal pup was caught on camera visiting California surfers and even jumping onto a surfboard to apparently bathe in the sun and ride the waves with his new human friends.
"The most beautiful thing that has ever happened to me … never getting rid of this board … endlessly grateful to @dronedudeed for being there with me and catching this incredible moment on his cam," one of the lucky surfers who spotted the baby seal posted on Instagram, according to The Sacramento Bee.
A few surfers were out on the water last Saturday off Tourmaline Beach, which is north of San Diego, when they spotted the seal pup.
NEW JERSEY POLICE HELP GET BABY SEAL BACK TO SAFETY AFTER IT TOOK 'WRONG TURN'
MAINE TOWN HELPS DETERMINED SEAL AFTER IT REPEATEDLY COMES ASHORE DURING SNOWSTORM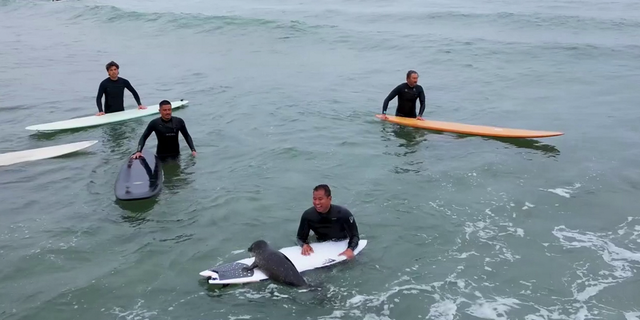 Surfers in California were shocked to find a friendly baby seal. (SWNS )
HAWAIIAN OFFICIALS BLOCK OFF SECTION OF FAMED WAIKIKI BEACH FOR BABY MONK SEAL
"Our team did respond to the pup," SeaWorld official Tracy Rahr told NBC San Diego. "Upon arrival, it appeared healthy and was in the water when the team went out to evaluate, so there was no need to intervene as the pup also appeared to be old enough to care for itself."