FIRST ON FOX: A bipartisan group of 12 senators penned a letter to President Biden, demanding that he direct his administration to seize Iranian oil and gas shipments under a Trump-era program.
The lawmakers — led by Sen. Joni Ernst, R-Iowa, and Richard Blumenthal, D-Conn., and joined by five Republicans, four Democrats and an Independent — said the Homeland Security Investigations (HSI) Office, a Department of Homeland Security subagency, hasn't seized any Iranian oil and gas shipments for nearly two years. Last year, meanwhile, Iranian oil exports increased 35% year-over-year.
"When HSI seizes and processes Iranian oil, 75% of seizure revenues are allocated to the U.S. Victims of State Sponsored Terrorism Fund," the senators wrote to Biden. "It is unacceptable that a U.S. government program, which makes the United States and its allies safer, provides funds to remediate the victims of terrorism, and generates income for the United States in a cost-effective manner has been allowed to languish."
"The failure to support HSI's Iranian oil seizure and disruption operations in FY22, despite available funds, is a policy choice that must be reversed," they continued. "United States sanctions should be enforced to the fullest extent of the law."
BIDEN ADMIN DELIVERS BLOW TO FOSSIL FUEL PROJECT IN VICTORY FOR ECO GROUPS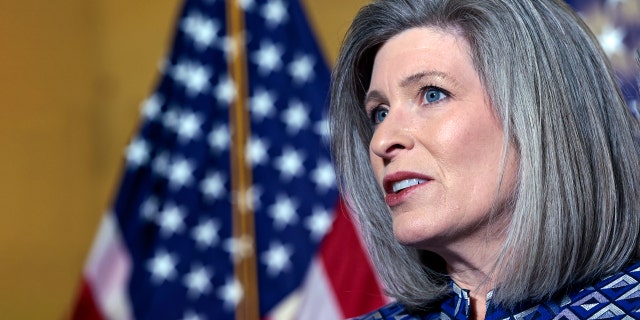 Sen. Joni Ernst, R-Iowa, speaks during a press conference in 2022. (Anna Moneymaker/Getty Images)
Sens. Ted Cruz, R-Texas, Steve Daines, R-Mont., Lindsey Graham, R-S.C., Maggie Hassan, D-N.H., Mark Kelly, D-Ariz., Joe Manchin, D-W.V., Jerry Moran, R-Kan., Marco Rubio, R-Fla., Kyrsten Sinema, I-Ariz., and Ron Wyden, D-Ore., signed onto the letter to Biden alongside Ernst and Blumenthal.
According to the lawmakers, under a self-funded HSI seizure program formalized during the Trump administration, the agency is empowered to seize oil and gas shipments from Iran.
BIDEN ADMIN APPROVES MASSIVE GAS PIPELINE PROJECT IN HUGE BLOW TO CLIMATE ACTIVISTS
The program was designed to curb Iranian petrochemical sales which the Department of the Treasury said in 2020 remain a key revenue source for Iran to "finance the regime's destabilizing agenda of support to corrupt regimes and terrorist group."
"As Iranian oil sales continue to rise, and the [Islamic Revolutionary Guard Corps] continues to target U.S. citizens and servicemembers, including inside the U.S., it is imperative that we use all available government assets to limit the activities of the Iranian regime," they continued.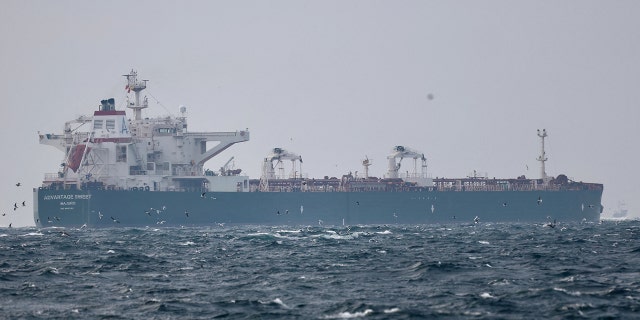 Marshall Islands-flagged oil tanker Advantage Sweet, which, according to Refinitiv ship tracking data, is a Suezmax crude tanker which had been chartered by oil major Chevron and had last docked in Kuwait, sails at Marmara sea near Istanbul, Turkey, Jan. 10, 2023. (REUTERS/Yoruk Isik)
Ernst, Blumenthal and the other senators sent their letter to the White House hours before the U.S. Navy announced the Iranian government seized an oil tanker that was en route to Houston from Kuwait. The U.S. Navy's 5th Fleet said Thursday that the actions were "contrary to international law and disruptive to regional security and stability."
CLICK HERE TO GET THE FOX NEWS APP
"This morning, the Iranian regime seized yet another oil tanker while transiting international waters, ramping up its blatant aggression in the region," Ernst told Fox News Digital in a statement.
"Meanwhile, a Trump-era, self-funded program to seize Iranian oil and gas shipments, which gives 75% of the seized profits to U.S. victims of terrorism, has languished for nearly two years," she continued. "This is appeasement at its height. I thank my colleagues for working with me in a bipartisan way to urge President Biden to limit the activities of the Iranian regime."