U.S. military investigators have recovered flight data recorders from two Army helicopters that collided last week in a remote area of Alaska's interior, killing three soldiers and injuring another, the Army said Wednesday.
Two helicopters from the 1st Attack Battalion, 25th Aviation Regiment at Fort Wainwright collided about 50 miles east of Healy when they were returning from training on April 27, the Army has said. Healy is about 80 miles southwest of Fairbanks.
ARMY HELICOPTER COLLISION IN ALASKA THAT KILLED 3 SOLDIERS OCCURRED IN MOUNTAINS, CAUSE UNDER INVESTIGATION
An investigative team from Fort Novosel, Alabama, went to the crash site Monday, when the flight data recorders, sometimes referred to as black boxes, and other "sensitive items" were recovered, the Army said.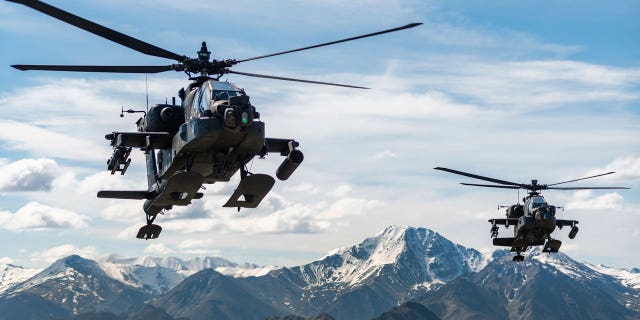 Two H-64D Apache Longbow attack helicopters from the 1st Attack Battalion, 25th Aviation Regiment, are seen here flying in Alaskan airspace. The Longbows pictured are similar to the ones involved in a deadly April 27 crash at Fort Wainwright. (Cameron Roxberry/U.S. Army via AP)
Sensitive items include such things as night vision devices and communications equipment, said John Pennell, a U.S. Army Alaska spokesperson. He said the team continues its work at the crash site.
The Army grounded aviation units on Friday to conduct further training following recent deadly accidents.
MOTHER OF SOLDIER WHO DIED IN ALASKAN ARMY HELICOPTER ACCIDENT SAYS HE LOVED HIS COUNTRY, FAMILY
The Army has identified those killed in last week's crash as Chief Warrant Officer 3 Christopher Robert Eramo, 39, of Oneonta, New York; Chief Warrant Officer 2 Kyle D. McKenna, 28, of Colorado Springs, Colorado and Warrant Officer 1 Stewart Duane Wayment, 32, of North Logan, Utah.
A private memorial is scheduled for Thursday at Fort Wainwright, near Fairbanks.
CLICK HERE TO GET THE FOX NEWS APP
The injured soldier is recuperating at home after being released from the hospital, the Army said. The soldier's name has not been released.