A former Chinese official and his wife had left their homeland and kept their U.S. address private. Yet eight years later, two strangers were banging on their New Jersey front door and twisting the handle, the wife testified in a U.S. court Monday.
When the men left and Liu Fang opened the door, she found an ominous note telling her husband that if he returned to China and served 10 years in prison, his wife and children would be OK.
If the lock hadn't held, "what happens if they were able to come in?" she wondered aloud, through a court interpreter, at the criminal trial of a man who helped post the note and two co-defendants. The co-defendants are charged with playing other roles in an alleged campaign to hound ex-official Xu Jin into returning to China.
AMERICAN SLEUTH, 2 CHINESE MEN CHARGED WITH HELPING CHINA HARASS, INTIMIDATE DISSIDENTS INTO RETURNING HOME
China describes "Operation Fox Hunt" as a plan to pursue and repatriate nationals Beijing considers fugitives. Those on the wanted list also include people at political or cultural odds with China's ruling Communist Party.
China can't legally compel suspects to return from the U.S., since the countries have no extradition treaty. Beijing has denied issuing threats to induce people to return "voluntarily."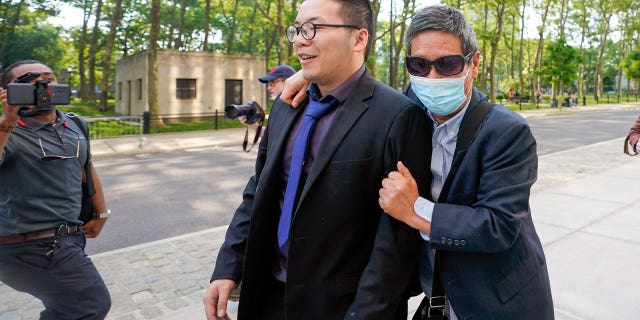 Zhu Yong (right) was one of three men implicated in a scheme to pressure a dissident former Chinese official to return home for indictment. (AP Photo/Mary Altaffer, File)
Xu, once a city official in Wuhan, and his wife left China in 2010. Chinese officials then issued international alerts that he was wanted on allegations of embezzlement and bribe-taking and that she was also wanted for allegedly accepting bribes.
McMahon did surveillance and gathered information to help locate Xu. Zhu — also known as Jason Zhu — helped hire McMahon to do so. Zheng helped post the note on the couple's door, though his lawyer said Zheng soon developed qualms and took it down.
In home-security video shown at the trial, two men walk up a path toward the couple's front door, then appear on a back deck and look in the glass doors to a sunroom, and then traipse up the front path again. Liu said she and her husband went to look at the video after they heard pounding on their door.
The couple subsequently installed new locks and additional security cameras, replaced sheer curtains with opaque ones and got a baseball bat for protection, she told jurors.
Liu said she hadn't been promised any immigration help, though she allowed that she didn't think the U.S. government would force the couple to return to China. Regardless, she said immigration matters didn't influence her testimony.
CLICK HERE TO GET THE FOX NEWS APP
"All I'm telling is the truth," she told jurors. "I'm testifying to let people know the truth of what happened to me."