GOP presidential candidate and Florida Gov. Ron DeSantis became the first 2024 contender to enter the South Carolina primary Tuesday and defended rival and Republican front-runner former President Donald Trump during a campaign stop in the Palmetto State.
Flanked by supporters, including state legislators who have endorsed his bid, DeSantis signed his filing documents during a stop at the South Carolina Republican Party headquarters in Columbia, making him the first major party presidential candidate officially on the ballot for the first-in-the-South contest.
During a press conference afterward at the Celebrate Freedom Foundation, a nonprofit founded by retired military leaders, DeSantis was asked by a reporter about breaking news that Trump stated on Truth Social earlier Tuesday that he received a letter from special counsel Jack Smith informing him he is the target of a Jan. 6 grand jury investigation.
"Do you believe that Trump bears any responsibility for what happened on Jan. 6?" a reporter asked.
"Pro-life activists can have that SWAT team come. Meanwhile, Hunter Biden, he would have been in jail if he were a Republican, and we all know that," DeSantis added. "So that's, I think, a bit of frustration to see how that is wielded."
DeSantis added that, if elected president, he would work "to end the weaponization" of the FBI and Justice Department.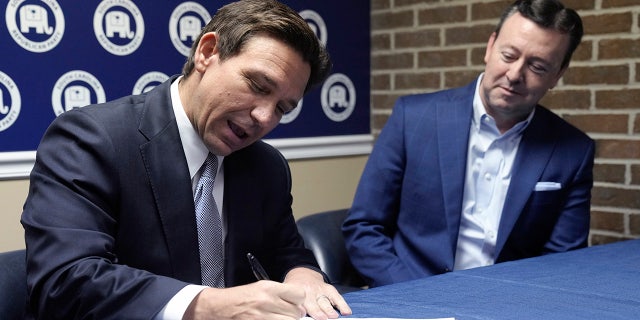 South Carolina Republican Party Chairman Drew McKissick, right, looks on as Florida Gov. Ron DeSantis signs his filing paperwork for South Carolina's GOP presidential primary Tuesday, July 18, 2023, in Columbia, S.C.  (AP Photo/Meg Kinnard)
DeSantis was asked again later about whether he believed what Trump did on Jan. 6 "was wrong,"
The stop in South Carolina marked the governor's third swing through the state as a White House hopeful.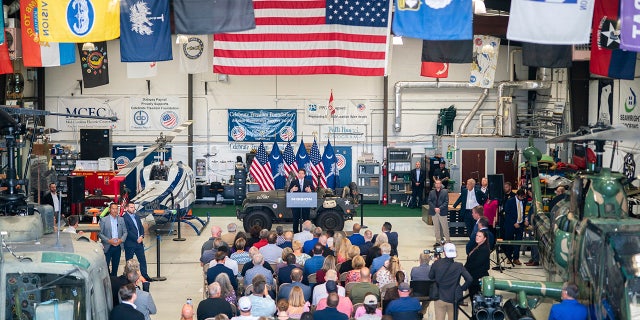 Ron DeSantis, Forida's governor and a Republican presidential candidate, speaks during a press conference at the Celebrate Freedom Foundation hangar in West Columbia, S.C., Tuesday, July 18, 2023.  (AP Photo/Sean Rayford)
CLICK HERE TO GET THE FOX NEWS APP
DeSantis was questioned on what he believes it will take to win South Carolina, especially since voters there overwhelmingly supported Trump in the last election.