Michigan police broke out their cowboy skills after they found a miniature horse galloping through the streets of Detroit on Wednesday morning.
The Detroit Police Department's (DPD) Second Precinct received a call about a small pony exploring the Detroit neighborhood.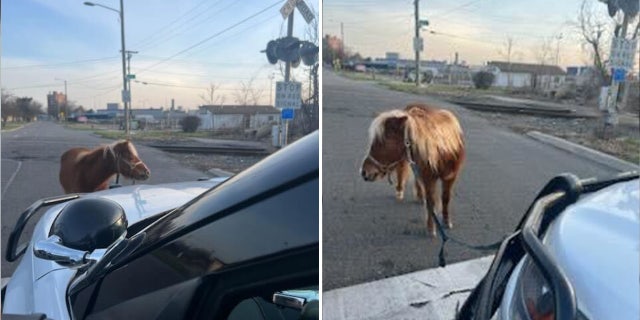 Instead of handcuffs, Detroit police used a lasso to capture a miniature pony wandering the streets. (DPD 2nd Precinct via Twitter)
"Caller says there is a brown miniature pony with a leash on it running up and down the street. Caller is trying to stop this pony," the DPD dispatcher called out.
MAN SPOTS RARE WHITE MOOSE IN SHOCKING VIDEO
Officers arrived on the scene and used unusual means to capture the escaped suspect.
"The horse is galloping, right now we're headed north," a DPD officers is heard saying.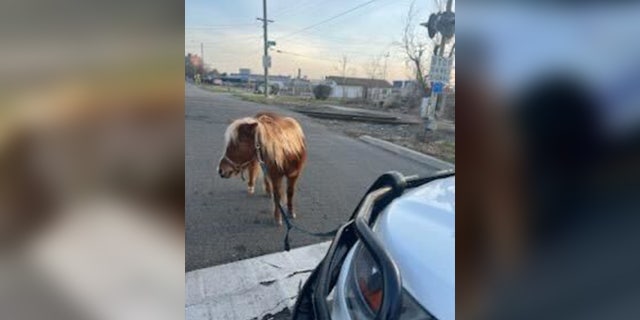 Detroit police used a lasso to corral the pony, before tying it to the front of their police cruiser. (DPD 2nd Precinct via Twitter)
After tracking down the pony, officers corralled the horse before lassoing the pony and tying the disobedient pony to the police cruiser's front bumper.
TEXAS MAN QUITS SIX FIGURE TECH JOB TO RIDE HORSE FROM AUSTIN TO SEATTLE: 'FAMILY TRADITION'
"Officers were able to get a little lasso around his neck and tie it to the bumper of the vehicle," Detroit Police Assistant Chief Charles Fitzgerald told FOX 2.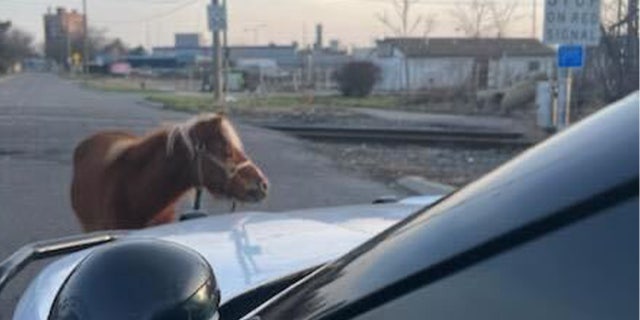 The pony was tied to the front bumper of the Detroit Police Department's cruiser. (DPD 2nd Precinct via Twitter)
Since officers were unable to transport the animal back to headquarters, they called the mounted division who brought a horse trailer to transport the pony.
"Officers called mounted division, and they came out with their trailer and the pony, horse, whatever it is – is comfortably in Clarkston, Michigan," Fitzgerald said.
CLICK HERE TO GET THE FOX NEWS APP
After, police transported the pony to the Abraham Ranch in Clarkston, Michigan. Police are still searching for the lost pony's owners.
"It's great to be a DPD Officer," DPD's 2nd Precinct tweeted out about the incident. "Never know what the day will bring."