EPA administrator Michael Regan told CNN on Wednesday that there would be "absolutely no punishment" for those who don't purchase electric vehicles (EVs) as part of the Biden administration's climate agenda and EV push.
"CNN News Central" host Sara Sidner noted polling that found 41% of Americans would not buy an EV and just 12% were seriously considering it. She asked Regan if Americans would be punished if they don't buy an EV in the time frame the administration provided.
"Absolutely no punishment, Sara. Listen, we're thinking out for the future. This proposed technology standards for automobiles, it doesn't kick in until model year 2027 and beyond, so what we're looking at is a ramp up period. We know that in the next couple of years, we're going to see automobile manufacturers offer a suite of products that will be attractive to consumers. We know that we'll see charging stations all across this country so that we can reduce that range anxiety and those who are concerned about where they can charge and people will have a number of years that they can take advantage of these tax credits, and so we're going to see a massive build up over the next couple of years," he said.
The Biden administration announced aggressive regulations for tailpipe emissions on Wednesday as part of its sweeping climate agenda and efforts to push Americans to buy EVs.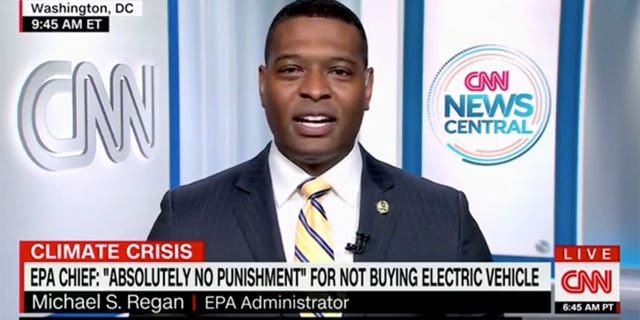 EPA administrator Michael Regan joins "CNN News Central" on Wednesday to discuss the Biden administration's crackdown on gas vehicles.  (Screenshot/CNN/CNNNewsCentral)
BIDEN ADMIN QUIETLY ADDS WORKAROUND, MAKING PRICEY SPORTS CARS ELIGIBLE FOR EV TAX CREDITS
The tailpipe emissions regulations will impact car model years 2027 through 2032 and the new rules require car manufacturers to guarantee a 56% greenhouse gas admissions reduction in 2032 vehicles compared to 2026 models.
"We're starting to see those electric vehicle sales numbers grow already, so we anticipate that all of this will line up and when we start to look at model year 2027 beyond I say that folks should fasten their seatbelts because this electric future has taken off," Regan told CNN.
Sidner also asked if the administration would also be going after the industry.
"Listen this is a proposal that provides options and we are in the proposal phase. We're going to continue to engage with the automobile industry. We're going to continue to engage with union and nonunion workers. We're going to continue to engage with the environmental stakeholders. Uh this is a proposal. It kicks off a process by which we can look at these numbers. We can look at this ambition and together we can pursue a path that is good for this country, not only from a climate and pollution standpoint, but good for jobs, good for manufacturers and good for consumer choice," he said.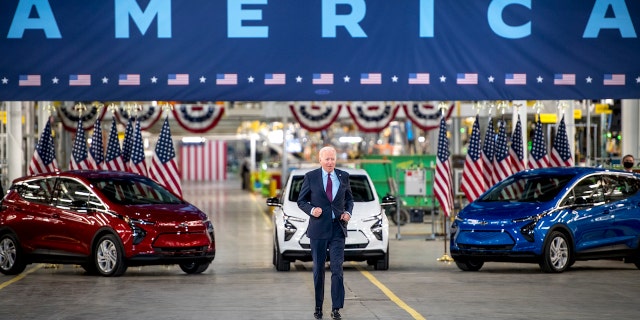 DETROIT, MI – NOVEMBER 17: U.S. President Joe Biden makes his entrance on November 17, 2021 at General Motors' Factory ZERO electric vehicle assembly plant in Detroit, Michigan. (Photo by Nic Antaya/Getty Images) (Nic Antaya/Getty Images)
NEARLY 200 GOP LAWMAKERS BLAST BIDEN'S EPA FOR TARGETING FARMERS, RANCHERS: 'EGREGIOUS FEDERAL OVERREACH'
Republican lawmakers criticized the move on Wednesday.
"Today, the Biden administration made clear it wants to decide for Americans what kinds of cars and trucks we are allowed to buy, lease, and drive," Sen. Shelley Moore Capito, R-W.Va., said.
Sen. John Barrasso, R-Wyo., said the president wants to "ban the cars we drive."
"His misguided policies are hurting American families while helping China," he said. "The president's disastrous energy transition is making us more reliant on our enemies while driving up prices for Americans. The 'electrification of everything' is not a solution. It's a road to higher prices and fewer choices."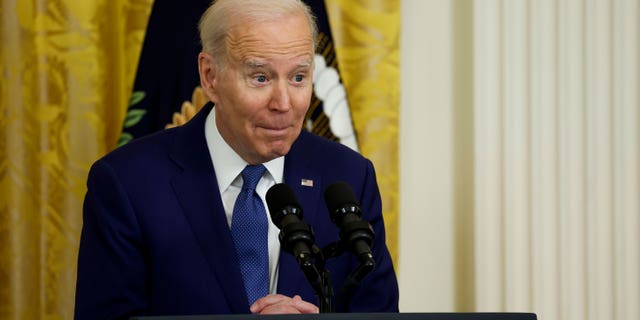 U.S. President Joe Biden speaks at an event marking the 13th anniversary of the Affordable Care Act in the East Room of the White House on March 23, 023 in Washington, DC.  (Anna Moneymaker/Getty Images)
CLICK HERE TO GET THE FOX NEWS APP
The White House said the regulations would "protect public health" by achieving carbon emission reductions of nearly 10 billion tons by 2055 and would save consumers an average of $12,000 over the lifetime of vehicles.
If the regulations are finalized, a staggering 67% of new sedan, crossover, SUV and light truck purchases could be electric by 2032, according to the White House projections. In addition, up to 50% of bus and garbage truck, 35% of short-haul freight tractor and 25% of long-haul freight tractor purchases could be electric by then.
Fox News Digital's Thomas Catenacci contributed to this report.