People love collecting stuff. Although you might call it junk, they'd like to refer to it as their treasures. There's a whole community of people who love going to garage or tag sales and searching to buy things on popular resale websites. Many Americans are looking for ways to spring clean and unload unwanted belongings to make some extra cash in this economy.
Online secondhand sales have grown in popularity, especially since the emergence of Facebook Marketplace and OfferUp, so let's discuss which app is the better platform to sell your things.
CLICK TO GET KURT'S FREE CYBERGUY NEWSLETTER WITH QUICK TIPS, TECH REVIEWS, SECURITY ALERTS AND EASY HOW-TO'S TO MAKE YOU SMARTER
What are the pros and cons of selling your stuff on Facebook Marketplace? 
iPhone: 2.3 stars (at the time of publishing)
Android: 3.3 stars (at the time of publishing)
THREE WAYS TO MAKE THE MOST MONEY SELLING YOUR UNWANTED THINGS ONLINE
Pros: 
Accountability: Everyone must use their personal accounts, which requires some accountability when messaging others and planning to meet up.
Great exposure: Facebook will show publications that receive a lot of likes for longer periods of time, so you can get a lot of offers for your product.
Free to use: Some websites and apps require you to pay to have an account before selling items; however, Facebook Marketplace is completely free and charges zero fees to list your items if you sell them locally.
Allows local pickup and shipping: Offering both local pickup and shipping options allows sellers to expand their customer base and provides buyers with more flexibility and convenience when making a purchase.
A pro of selling items on Facebook Marketplace is that Facebook will show publications that receive a lot of likes for longer periods of time, so you can get a lot of offers for your product. A con is that there is no buyer protection. (Meta)
Cons: 
Personal account attachment: Having a personal account attached to your for-sale items gives away some of your privacy.
No buyer protection: Some sites like eBay have buyer protection so that buyers don't get stuck with unsatisfactory purchases. All you can do with Facebook Marketplace is examine the product physically when you meet up with the person you're buying from or it arrives in the mail.
MORE: IS FACEBOOK LISTENING TO YOU? 
What are the pros and cons of selling your stuff on OfferUp? 
iPhone: 4.8 stars (at the time of publishing) 
Android: 4.4 stars (at the time of publishing) 
Pros:  
Verification system: While OfferUp isn't attached to your social media, you can utilize their profile verification system, which displays a badge on a person's profile when you've confirmed their identity.
 Pre-approved community meet-up stops: You can plan to pick up the item you're buying at a parking lot near a police station, for example, which helps take away some of the risks of buying from or selling something to a stranger online.
No listing fees: Many sites and apps will charge you when you list a product; however, listing on OfferUp is completely free.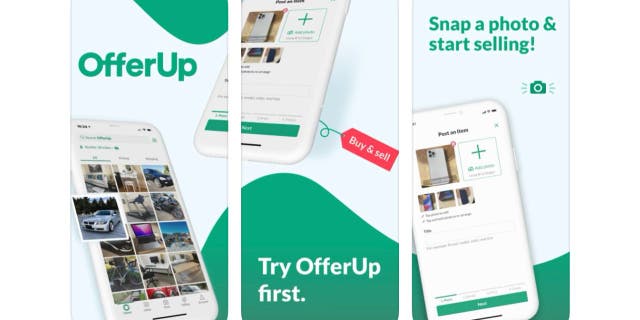 A pro of listing on OfferUp is that it is free, while many sites and apps will charge you when you list a product. A con is that you cannot ship to some states. ( CyberGuy.com)
Cons: 
You can't ship to some states: OfferUp doesn't allow you to ship items you sell to some U.S. states, which limits your potential customers.
Shipping fees: For the states that you can ship to, OfferUp charges a 7.9% fee from the sales transaction.
So with all the pros and cons listed for each app, which one is better for selling your unwanted items? My opinion is if you're selling something online, try both apps. Each one offers great benefits and has its challenges, so you can try both out and see which one better suits your needs. And if you're mostly concerned with the amount of money you'll get, you can even list on additional sites like Craigslist or Mercari and see where you're going to get the most cash.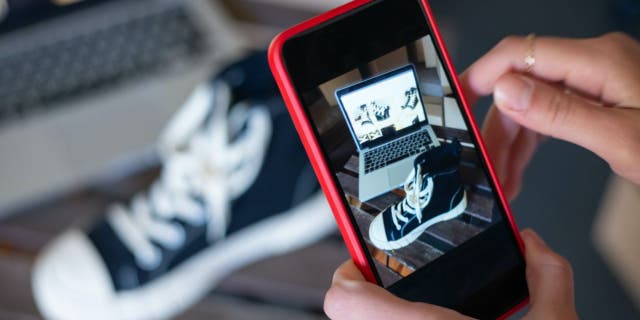 Try using both Facebook Marketplace and OfferUp to see which gives you the best-selling experience or try another site. (CyberGuy.com)
 MORE: HOW TO CHANGE YOUR FACEBOOK PASSWORD
How to list an item for sale on Facebook Marketplace 
Open your Facebook app and tap the three horizontal lines in the bottom right corner.
Tap Marketplace.
Tap Sell at the top.
Tap Create Listing and select the type of product you're selling.
A window will pop up asking you if you want to create new listing.
Tap the Items tab.
Fill out all the information for your product like Title, Price, Category, Condition & Description.
Tap Add photos to add photos from your phone, or take a new photo.
Tap Add Video to add a video from your phone, or record a new video.
You can also choose to Hide from Friends, List in more places & add Additional listing options.
Next, tap the blue Next bar at the bottom of the screen.
You will then be asked to fill in your location zip code and delivery method (Shipping & Local pickup/shipping only/or local pickup only) & Meetup preferences (Public meetup/Door Pickup/or Door dropoff).
Tap Publish to publish your Marketplace listing.
CHECK WASHING FRAUD IS THE LATEST SCAM AIMED AT YOU
How to list an item for sale on OfferUp 
Open the OfferUp app and tap Post.
Log in to your account if you're not logged in already.
Take a photo of your item or select a photo from your phone's photo library.
Give the product a title. You can optionally give it a description as well. Then tap Next.
Give your item a category, sub-category, and the condition it's in. Click Next.
Give the product a price and tap Next.
Add a location for your item.
Click Post to make your listing public.
Beware of these potential secondhand scam warnings 
1. Overeager buyer 
Beware of overly enthusiastic buyers showing interest in your listing, as they may be scammers trying to rush the transaction and move communication to a different messaging service. This can be risky as OfferUp won't be able to assist if any issues arise. Always stay within OfferUp's platform for buying or selling and avoid switching to other messaging services like Facebook Messenger.
2. Deceptive website scam 
Scammers frequently attempt to deceive you with counterfeit websites that are designed to mimic legitimate ones, such as OfferUp. However, by paying careful attention to the URL and visual cues on the webpage, you can spot the fraud. It's important to be vigilant and avoid making purchases on spoofed websites, as doing so may result in losing your money without receiving the item. To safeguard against spoofing scams, always conduct business exclusively on the official OfferUp website.
HOW SCAMMERS ARE SELLING COUNTERFEIT STAMPS ON FACEBOOK ADS
3. Fake verification code 
This scam is highly sophisticated and can easily deceive anyone. The modus operandi involves a potential buyer expressing interest in your item for sale and requesting verification of your identity as a genuine seller. This may seem legitimate on the surface, prompting them to ask for your phone number to send a verification code. However, in reality, the code is not for verification purposes at all. Clicking on the link could result in your credentials and banking information being stolen, or your device being infected with malware. It's crucial to never click on links sent by individuals through OfferUp, as the platform has its own verification process that does not involve verification codes. If anyone demands this type of information, it's best to walk away to protect yourself from falling victim to this scam.
4. Empty box scam 
The empty box scam is as straightforward as it sounds – you make a purchase on OfferUp, but the seller deceives you by sending an empty box instead. To protect yourself from falling victim to such scams, it's best to conduct all your transactions through the OfferUp app. In case the seller fails to deliver the purchased item, you can file a complaint with OfferUp to seek a refund.
Additionally, it's crucial to check the seller's reviews before making a purchase. If they have a history of scamming others, their reviews are likely to reflect it. It's advisable to steer clear of sellers with negative reviews, and exercise caution when dealing with those who have no reviews at all.
5. Overpayment scam 
This type of scam is pervasive across most online marketplaces. Here's how it typically unfolds: a buyer purchases an item from you, but instead of paying the agreed-upon price, they send an excess amount, claiming it was an innocent error. They then request that you return the overpaid amount to rectify the situation.
However, this is where the scam comes into play. In reality, the check they sent will eventually bounce, or if the payment was made electronically, they will falsely claim to their bank that the transaction was fraudulent and retract the payment from you. If you comply and return the overpaid amount, you'll end up losing not only the extra money they sent but also the original payment and the item you sold.
To protect yourself from falling victim to these scams, always ensure that the buyer's payment has cleared and is securely in your bank account before refunding any overpayment. Additionally, stick to using the original marketplace, such as OfferUp, to complete the transaction. Scammers may attempt to steer you toward a different payment platform that lacks proper protections for your money.
TIPS TO HELP YOU TELL IF AN ONLINE STORE IS REAL OR A SCAM
What to do if you fall victim to a scam? 
While it may feel embarrassing if you are targeted and fall victim to a scam, know you are not alone. Don't be afraid to speak up and report any scam. There's a chance you can stop someone from scamming others, and you want to take these steps, so your personal information isn't compromised.
If you gave any personal information, contact your bank immediately to flag the potential fraud.
If you mailed any personal checks, call your bank to cancel the check before it clears.
Report the scam to the FTC and the FBI's Internet Crime Complaint Center.
Contact your state attorney's office.
Use identity theft protection 
Identity theft protection companies can monitor personal information like your Social Security number, phone number, and email address and alert you if it is being sold on the dark web or being used to open an account. They can also assist you in freezing your bank and credit card accounts to prevent further unauthorized use by criminals. The great part of an identity theft company like my #1 pick is that you're provided with your own personal case manager that will help you recover any losses.
See my tips and best picks on how to protect yourself from identity theft by visiting CyberGuy.com/IdentityTheft.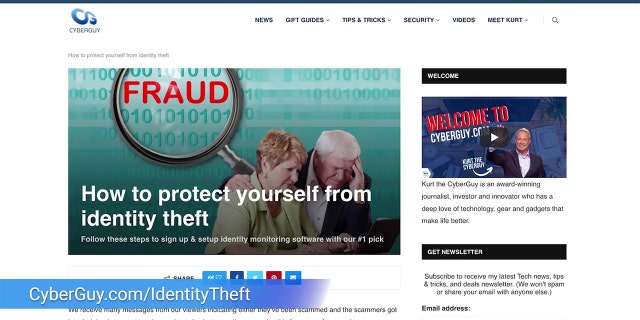 Go to CyberGuy.com/IdentityTheft to see tips and best picks on how to protect yourself from identity theft. (CyberGuy.com)
Final thoughts 
Whether you choose to sell on Facebook Marketplace or OfferUp, both platforms have their pros and cons. While Facebook Marketplace offers great exposure and is free to use, it does require a personal account attachment and lacks buyer protection. On the other hand, OfferUp has a verification system and pre-approved community meet-up stops, however, may have limitations on shipping and charges shipping fees. Ultimately, trying out both apps and even considering additional sites like Craigslist or Mercari can help you determine which platform better suits your needs when selling your items.
Have you tried selling on Facebook Marketplace or OfferUp? Let us know how your experience was.
CLICK HERE TO GET THE FOX NEWS APP
Subscribe to the CyberGuy Report Newsletter at CyberGuy.com/Newsletter to get scam alerts and simply search 'scams' at CyberGuy.com.
Copyright 2023 CyberGuy.com. All rights reserved.