A Florida landlord is launching a website to assist other property owners with squatters after she spent thousands of dollars to remove illegal residents from her own property.
"My goal is to drive state and federal laws to treat squatters as criminals and to expedite the review of fraudulent leases," Patti Peeples, 61, told Fox News.
Earlier this year, Peeples and her business partner Dawn Tiura ejected two female squatters from their home after they moved in illegally for over a month and left thousands in damages.
SQUATTERS TAKE OVER FLORIDA HOME FOR 34 DAYS
Video
WATCH MORE FOX NEWS DIGITAL ORIGINALS HERE
The website, PushOutSquatters.org will launch later this week and will intentionally go by the abbreviation "POS."
"So many who responded to news articles used that abbreviation, so I went with the double entendres," said Peeples, who is a retired entrepreneur with experience in marketing.
The website will be both informational and community-oriented, she said.
"The purpose of the website will be to present the risks associated with squatting, the rise in frequency and to offer resources for those attempting to get squatters out, including everything from security resources to legal resources on how to review state statutes," Peeples said.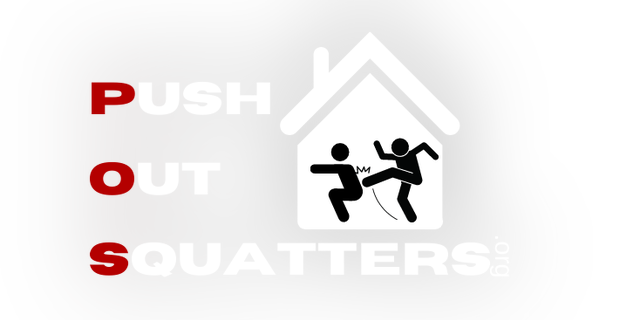 Logo for Patti Peeples' new resource website for property owners dealing with squatters. (Courtesy of Patti Peeples)
She added that other squatter victims will be able to share their stories on the website so others can learn from those experiences.
REALTY COMPANY: SQUATTERS MAKING LIFE MISERABLE FOR PROPERTY OWNERS, PHILADELPHIA OFFICIALS DON'T SEEM TO CARE
Peeples plans to also sell hats and t-shirts with the website's logo featuring a stick figure kicking another stick figure out of a house.
"We will use the funds to lobby state legislators for better laws," Peeples said.
Although Peeples successfully removed the two squatters from her Jacksonville, Florida, investment property, they illegally occupied it for 34 days and left behind $38,000 in damages. During the ordeal, Patti lost an interested buyer in the house, was physically pushed out of the house by the squatters and decided that she has had enough of working in real estate.
SQUATTER VICTIMS FED UP WITH BEING LANDLORDS AFTER FEELING WRONGED BY LEGAL SYSTEM
"This is my retirement, and so any sort of income that I was trusting to live off of for this year is diminished because of this act of stealing," Peeples told Fox News. "That's essentially what they've done – they've stolen my home from me."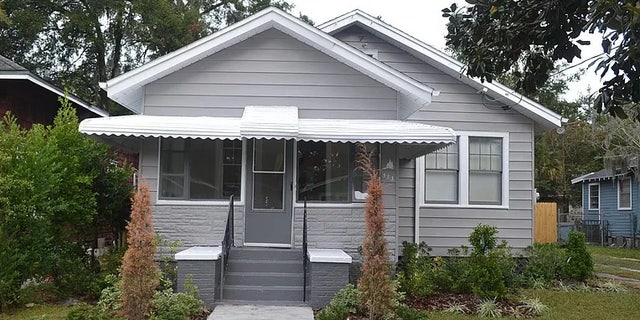 The Jacksonville home that was illegally occupied by squatters for 34 days. (Courtesy of Crissie Cudd)
The squatters, who have a history of illegal occupancy, produced a fraudulent lease when police were called, allowing them to remain in the home until Peeples took them to court.
Peeples and Tiura were forced to pay $5,000 in legal fees to eject the squatters.
FLORIDA VICTIM OF SERIAL SQUATTER CALLS ON DESANTIS TO CRACK DOWN ON ILLEGAL HOME OCCUPATION
Peeples said that since her story became public, she's seen a positive impact, including former President Trump mentioning squatters in Florida in a jab at Gov. Ron DeSantis.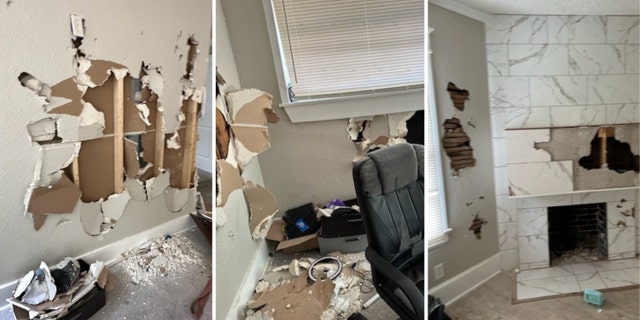 A Jacksonville home was destroyed after squatters moved in. (Courtesy of Patti Peeples)
CLICK HERE FOR THE FOX NEWS APP
"I've had hundreds of people send me messages on social media," Peeples said, adding that the stories about her situation have been seen by millions of people.
"The publicity has also encouraged our local sheriff's office to pay more attention to this and pursue criminal charges if they can find the squatters," she added.
Click here to learn more about the squatters in Jacksonville, Florida.