Millions of dollars in reparation payments are the wrong approach to improving the lives of Black Americans, retired NFL safety Jack Brewer told Fox News on Monday.
The California Reparations Task Force formally recommended that the state offer payments of up to $1.2 million to every qualifying Black resident, a move supported by many prominent California leaders.
Brewer, who played with the Vikings, Giants, Eagles and Cardinals, said improving literacy rates in places like inner-city Baltimore, where some grades sit around 0%, fixing the fatherlessness crisis and returning spirituality to the home and community are much more productive than allocating massive amounts of taxpayer monies.
CALIFORNIA REPARATIONS PANEL TO RECOMMEND 'DOWN PAYMENTS' TO BLACK RESIDENTS, ABOLISHING CASH BAIL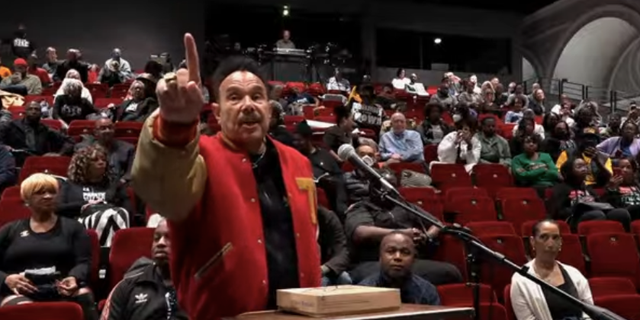 Reverend Tony Pierce calls for millions of dollars in reparations for each Black Californian at a meeting of the California Reparations Task Force on May 6, 2023. (YouTube screenshot from California Department of Justice channel)
"As we look at our real issues that we have as Black folks in America, particularly in California, you know, there's one million Blacks in L.A. County alone. And in the last report that I read, 80% of those kids in school can't read and write at proficiency level. So if you're going to talk about reparations, let's talk about reparations through education," he said.
"Let's actually have reparations that are going to work for the people. I mean, you got a fatherlessness crisis going throughout the state where these Black kids are being raised in homes that don't have any dads. And so those are our real issues. Our criminal justice issues, our educational issues. You talk about social justice, it's not going to be completed by just handing out checks to people."
Brewer said whenever he voices his countervailing opinion, he is branded an "Uncle Tom."
"For that, I don't care because, you know, our kids need spirituality again," he said.
BREWER TELLS CONGRESS VIOLENCE WON'T END TIL PADDLE AND PRAYER ARE BACK IN PUBLIC SCHOOLS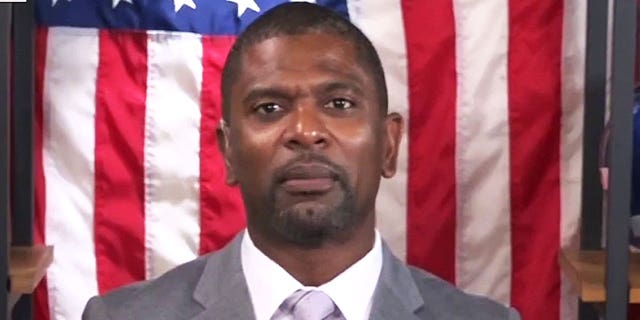 Former NFL player Jack Brewer  (FNC Video)
"A God-fearing person would not sit up there and demand $4 million checks. A God-fearing person would demand for righteousness to be instilled back in the children," Brewer added, pointing to troubling Black-on-Black violent crime rates nationwide.
"You see how our little girls are dressing. You're talking about sex trafficking at its highest levels we've ever had because there are no dads in the homes. Our kids aren't going to church anymore. I mean, our communities are ravaged right now. And you've got a bunch of people standing up asking for million-dollar checks. It's absolutely insane to me," Brewer said.
The reparations task force held a public meeting in Oakland, California, on Saturday and voted on the final set of recommendations to be sent to the state's legislators. The nine-member panel called on the state to offer its Black residents a formal apology in addition to the payments.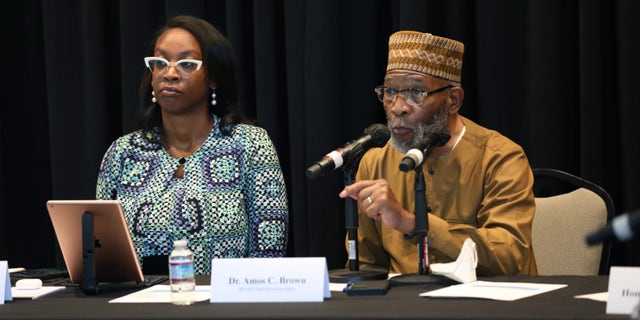 Kamilah Moore, chair of the California Reparations Task Force, left, and Amos Brown, vice chair. ((Carolyn Cole / Los Angeles Times via Getty Images))
"Reparations are not only morally justifiable, but they have the potential to address long-standing racial disparities and inequalities," Rep. Barbara Lee, D-Calif., said after attending the meeting.
Fox News' Anders Hagstrom contributed to this report.