A Delaware-based Second Amendment group lashed out at organizers of the Delaware State Fair over rules prohibiting lawful gun owners from carrying their weapons on fairgrounds.
"The Delaware State Fair is now officially anti-gun," an email blast recently sent to members of the Delaware State Sportsmen's Association (DSSA) proclaims. The notice sounds off against a policy that prohibits patrons, vendors, exhibitors, volunteers and employees from carrying firearms at the fair from July 20-29, 2023.
The Delaware State Fair website states that "weapons of any kind or objects that appear to be weapons are prohibited and may not be brought onto the fairgrounds."
The restriction applies to all fairgoers "regardless of whether you are licensed to carry or not" and includes all forms of concealed or open carry firearms, rifles, shotguns, black powder weapons and an assortment of knives, stun guns, bludgeoning weapons, and other "dangerous or deadly" instruments or weapons.
Organizers of the state fair, which kicks off in just two days, said the rules prohibiting firearms were adopted for the safety of guests. More than 300,000 attend the fairgrounds in Harrington, Delaware, each year.
"As we recognize large venues, large events, we've upgraded several areas in regards to public safety," Danny Aguilar, assistant general manager and marketing director, told local station WMDT last month.
FEDERAL JUDGE UPHOLDS OREGON GUN CONTROL LAW DESCRIBED AS 'NATION'S MOST EXTREME'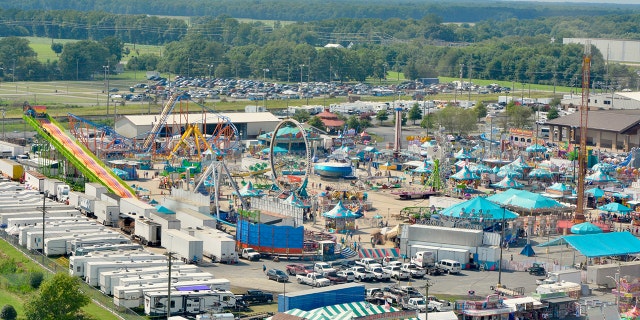 The Delaware State Fair in 2018. (Michele Dorsey Walfred/Filckr)
DSSA expressed indignation at the policy.
"In a blatant insult to law-abiding permit holders, they say their ban on licensed and lawful concealed carry is to keep fairgoers 'safe.' Really? Since when do law-abiding, licensed concealed carry permit holders constitute a public safety threat to anyone but bad guys with guns?" DSSA said.
CLICK HERE TO GET THE FOX NEWS APP