Several hundred people gathered Monday to commemorate the 10th anniversary of a protest movement against Republican legislative policies in North Carolina, with its top leader asking them to commit again to what's described as a pro-worker and pro-voter agenda that also lifts up minorities.
The Rev. William Barber, who a decade ago helped initiate what became known as the "Moral Monday" demonstration and protest movement, was among the speakers at the event on the old Capitol grounds. That's one block from the Legislative Building, where Barber was among 17 people arrested on April 29, 2013, outside the Senate chambers following prayers, chants and singing.
The protesters opposed efforts by GOP leaders at the General Assembly to reduce unemployment benefits, scale back voting options and refuse Medicaid expansion. Similar rallies and gatherings continued on future Mondays outside and within the building, leading to more 1,000 arrests in two years. As demonstrations were replaced later by other activities, the movement spread to other states.
JUDGE RULES UMICH GRAD STUDENT STRIKE UNFAIR
Organizers and speakers billed Monday's event as a recommitment to oppose "extremist leaders" in Raleigh pushing proposals they say would harm poor people, women, immigrants and LGBTQ+ people.
"We have no choice. Ours is an agenda of necessity. Ours is an agenda from which we cannot turn," Barber told the crowd. He asked supporters to commit to organize "Moral Monday" events back home and plan for a large march in Raleigh in 2024 "as a signal that we're going to mobilize from the street to the polls."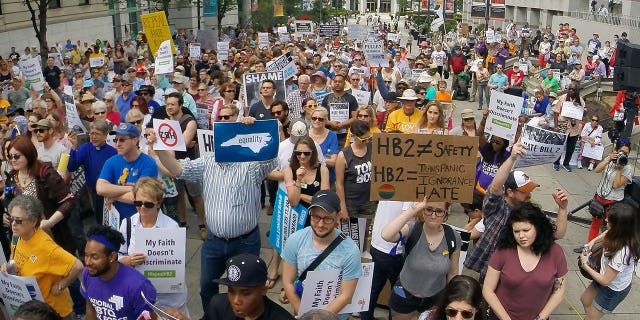 Supporters from the "Moral Monday" group crowd in North Carolina on April 25, 2016. Several hundred people gathered on April 24, 2023, to commemorate the 10th anniversary of the "Moral Monday" protest movement. (Travis Long/The News & Observer via AP)
Earlier this month, Republicans regained veto-proof seat majorities in the General Assembly when a House Democrat switched her registration to the GOP.
Many demonstrators marched later to the front of the Legislative Building, where the gate near the entrance was shut because no formal legislative activity was happening Monday evening.
CLICK HERE TO GET THE FOX NEWS APP
Barber, a Goldsboro pastor who was state president of the North Carolina NAACP in 2013, has since become a national civil rights figure. He's president of the group Repairers of the Breach, co-chair of the Poor People's Campaign and director of the new Center for Public Theology and Public Policy at Yale Divinity School.
Other "Moral Monday" events have been held in states including Tennessee and West Virginia.