Israeli defense minister Yoav Gallant revealed Thursday that Israel and other intelligence partners thwarted more than 50 attempts to attack Jewish and Israeli targets worldwide, all orchestrated by Iran. Most of them were at the last stages of execution and were stopped at the "last moment."
In his visit to Baku, the capital of Azerbaijan, Iran's northern neighbor, Gallant accused Iranian Supreme Leader Ali Khamenei of overseeing a terrorist campaign "of unprecedented measure" targeting Israelis and Jews.
IRAN MOVES TOWARD POSSIBLE ATOM BOMB TEST IN DEFIANCE OF WESTERN SANCTIONS: INTEL REPORT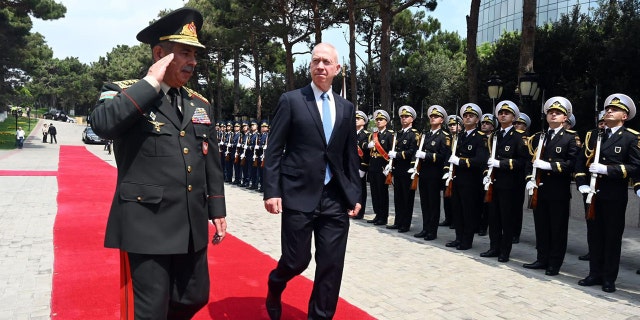 Israel's Minister of Defense Yoav Gallant visits the Ministry of Defense in Baku on July 13, 2023. (Ariel Hermoni/IMoD)
During his meeting with Ilham Aliyev, president of the Republic of Azerbaijan, the parties discussed further ways to strengthen strategic ties and cooperate in the face of mutual challenges.
The leaders emphasized shared goals for greater security, economic and technological exchanges, and common regional peace and stability. Gallant also met with his Azeri counterpart and the chief of the state border service.
Earlier this week, an Afghan citizen was arrested by Azerbaijan security services on suspicion of planning an attack against the Israeli embassy. The local intelligence agency monitored the movements of 33-year-old Pavzan Musa Khan, who entered Azerbaijan through Iran.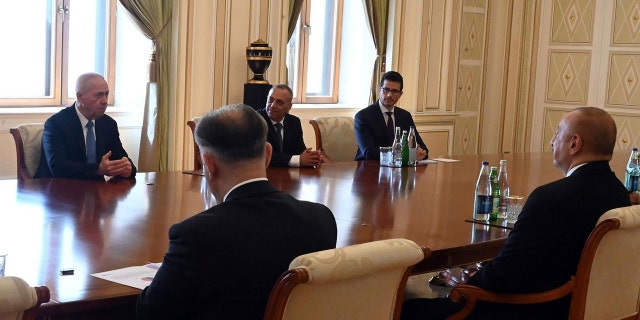 Leaders of Middle Eastern nations discussed security, economic and tech exchanges, and regional peace and stability on July 13, 2023. (Ariel Hermoni/IMoD)
Israel confirmed that the Azerbaijani authorities arrested the suspect after he was observed in the vicinity of Israel's embassy, and he is currently under investigation by local authorities.