A judge ruled Friday that Kevin Costner's estranged wife Christine Baumgartner cannot take items from the Carpinteria, California, home they once shared as she moves into a new space.
The judge stood behind his tentative ruling during a July 14 hearing. "Christine shall be permitted to remove her toiletries, clothing, hand bags and jewelry from Kevin's Beach Club Road residence," according to the judge's ruling, obtained by Fox News Digital.
"Christine is prohibited from removing any other items from the property, including, but not limited to furniture, furnishings, appliances and artwork from the Beach Club Road residences and from any storage unit maintained by the parties, whether jointly or individually absent a written agreement executed or by the parties or further court order."
KEVIN COSTNER FILES NEW DIVORCE ORDER TO PREVENT ESTRANGED WIFE FROM REMOVING ITEMS FROM $145 MILLION ESTATE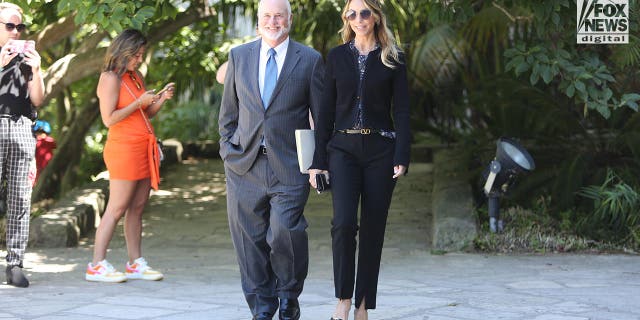 Baumgartner and her lawyer, Mark Rydell, leave Superior Court in Santa Barbara, California, on Wednesday. (Fox News Digital)
Costner's team argued that Baumgartner should not be allowed to take items from the beach home without the "Yellowstone" star's expressed permission as the pre-marital agreement says there is no community property.
The ex parte petition, filed Thursday and obtained by Fox News Digital, revealed some of the contested items, including "some pots and pans," "some appliances: chopper, juicer," and "random items: a glass vase, a dog bed, throw blankets, Peloton . . .," among other household items.
Costner's petition insists that Baumgartner has $1.5 million at her disposal, which is "plenty of money to buy furniture, pots and pans and dishes."
The objection claimed that Costner was "concerned Christine would take too many pots and pans — a complaint quite trivial given his 2022 income of about $24,000,000 and claimed net worth of about $200,000,000 (which we believe is understated)."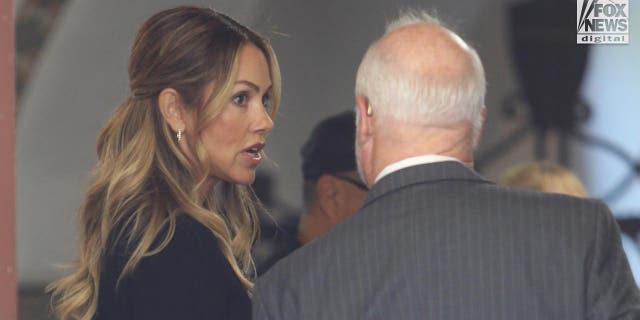 Baumgartner will receive $129,755 in monthly child support from Costner. (Fox News Digital)
All of this legal back and forth has occurred while Costner is on vacation with the couple's two sons.
"Christine is literally fighting over pots and pans at this point. With $129,000 a month in child support, she can buy new pots and pans," celebrity divorce lawyer Christopher C. Melcher told Fox News Digital. "Kevin is on vacation with their sons out of state and proposed that Christine take her personal belongings with her when she moves out on July 31."
"It is concerning to hear that Christine spent $25,000 on a criminal defense attorney when no allegations have been made about criminal conduct or abuse," Melcher said. "Why would she need a criminal defense attorney?"
Baumgartner was ordered by a judge last week to vacate the separate residence of their $145 million Carpinteria compound by July 31.
Costner purchased the property before their marriage, and a pre-marital agreement allegedly stipulated that she would not only move out of the home within 30 days, but also no longer live in any of his properties if they divorced. She would have needed to be moved out of the home by June 2, according to Costner's filing.
They both filed for joint custody of their three kids: Cayden, 16; Hayes, 14; and Grace, 13.
Judge Anderle recently ruled that Baumgartner will receive $129,755 per month in child support. Costner will be required to pay $200,000 in attorney's fees and $100,000 in forensic costs.
The estranged couple will each be required to pay for 50% of their three children's health care expenses, sports and extracurricular activities.