The search for a missing tourist submersible carrying five men came to a tragic end Thursday after rescue officials discovered debris from the imploded vessel near the wreckage of the Titanic.
Reactions poured in on social media shortly after the U.S. Coast Guard confirmed the debris field officials had found was the Titan submersible they had been searching for since Sunday.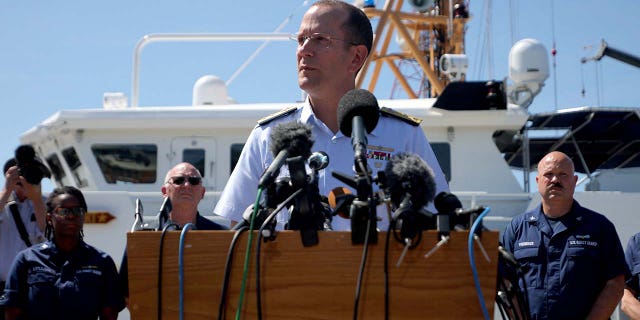 Rear Admiral John Mauger, the First Coast Guard District commander speaks during a press conference updating about the search of the missing OceanGate Expeditions submersible, which is carrying five people to explore the wreck of the sunken Titanic, in Boston, Massachusetts, U.S., June 22, 2023.    (REUTERS/Brian Snyder)
Richard Garriot, president of the Explorers Club, of which passenger Hamish Harding was a member, said the club was "heartbroken for the families, friends and colleagues of those who were lost."
CREW KILLED IN 'CATASTROPHIC IMPLOSION' TIMELINE OF MISSION TO FIND OCEANGATE'S MISSING TITANIC TOUR SUBMARINE
Garriot called fellow Titan passenger Paul-Henry Nargeolet, who was elected to the Club in 2021, "was one of the foremost experts on submersible expeditions to the Titanic."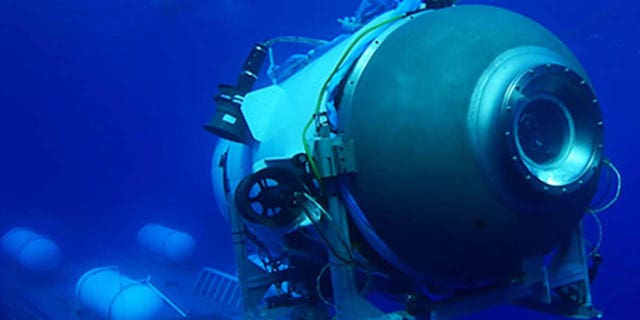 This file image provided by OceanGate shows the Titan submersible being launched from a platform. (OceanGate Expeditions)
The Save Titanic Memorial Lighthouse said it was "saddened by the news" of the five men aboard the Titan.
"Our most heartfelt condolences go out to their loved ones," the organization said.
'BANGING' NOISES CONFIRMED IN DESPERATE DEEP-SEA SEARCH FOR MISSING TITAN SUB BUT SOURCE UNKNOWN
Pakistan has offered the country's condolences to the Dawood family after the father-and-son explorers were among five killed on the submersible.
"Our deepest condolences to the Dawood family and the family of the other passengers on the sad news about the fate of the Titanic submersible in the North Atlantic," Pakistan's foreign ministry tweeted Thursday. "We appreciate the multinational efforts over the last several days in search of the vessel."
CLICK HERE TO GET THE FOX NEWS APP
The five men aboard the vessel were pilot Stockton Rush, the CEO of OceanGate, with British adventurer Hamish Harding, Pakistani businessman Shahzada Dawood and his son Suleman, and French explorer and Titanic expert Paul-Henry Nargeolet.
The Associated Press contributed to this report.