White House National Security Council spokesman John Kirby on Sunday defended President Biden's controversial decision to send cluster munitions to Ukraine.
"This is about keeping Ukraine in the fight. You were just there. You talked to President Zelenskyy about the counteroffensive, and in some ways, it's not going as fast as he would like," Kirby told host Martha Raddatz during an appearance on ABC's "This Week." "They are using artillery at a very accelerating rate, Martha, many thousands of rounds per day. This is literally a gunfight in – all along, from the Donbas, all the way down toward Zaporizhzhia and Kherson. And so, they're running out of inventory."
"We are trying to ramp up our production of the kind of artillery shells that they're using most. But that production is still not where we wanted it to be," Kirby added. "So, we're going to see these additional artillery shells that have cluster bomblets in them to help bridge the gap as we ramp up production of normal 155 artillery shells."
The munitions – which detonate in the air and release scores of smaller bomblets – are seen by the U.S. as a way to get Kyiv critically needed ammunition to help bolster its offensive and push through Russian front lines. U.S. leaders debated the thorny issue for months, before Biden made the final decision last week.
On Sunday, Kirby further argued the U.S. is sending Ukraine "cluster munitions because we don't have enough of the kind of munitions they need."
"I want to ask you why the U.S. has never banned them before. They're obviously a threat to civilians if they don't explode. Why is the U.S. not banning them, period?" Raddatz asked.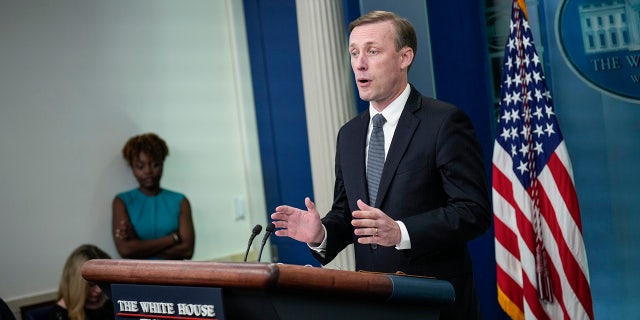 National security adviser Jake Sullivan speaks during the daily press briefing at the White House, July 7, 2023. (Drew Angerer/Getty Images)
"We are very mindful of the concerns about civilian casualties and unexploded ordnance being picked up by civilians or children and being hurt. Of course, we're mindful of that," Kirby responded. "And we're going to focus with Ukraine with demining efforts. In fact, we're doing it right now, and we will when war conditions permit. But these munitions do provide a useful battlefield capability."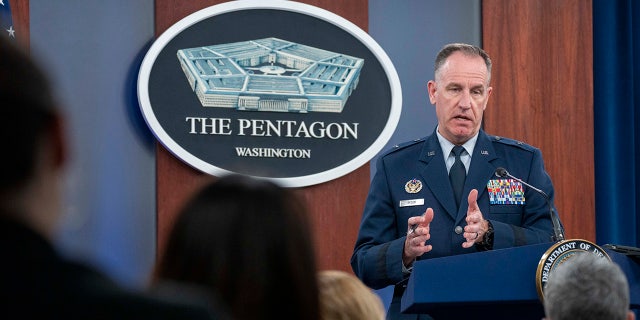 The Pentagon spokesman, Air Force Brig. Gen. Patrick Ryder, speaks during a media briefing, Thursday, July 6, 2023. (AP Photo/Alex Brandon)
Kirby said Biden wants to focus now on Ukraine winning the war against Russia before the Kyiv government achieves NATO membership. Granting Ukraine membership now, Kirby warned, would mean "NATO is at war with Russia," noting that the U.S. and its allies are aiming to give Ukraine space to work on political and economic reforms, as well as good governance.
Looking ahead to Biden's trip to Vilnius, Kirby anticipated, "You're also going to see from all the allies a concerted, unified approach to making it clear that NATO is eventually going to be in Ukraine's future, and that in between the time of the war ending and that happening, that the allies will continue to help Ukraine defend itself."
CLICK HERE TO GET THE FOX NEWS APP