While much of Europe and several states in the U.S. are barring young people from transgender medical procedures, two states in the Pacific Northwest are moving rapidly in other direction. Oregon and Washington state are passing laws giving teenagers as young as 15 years old access to "gender-affirming" care such as puberty blockers, cross-sex hormones and life-altering surgeries even without parental consent.
"They're going to weaponize agencies of the state, throughout the state, from the school to the foster care system to the police, to enforce this ideology on everyone," said Meg Kilgannon of the Family Research Council. "It is very frightening to contemplate."
In Washington state, Senate Bill 5599 passed along party lines and is now awaiting Democratic Governor Jay Inslee's signature. The bill's intent is to "remove barriers to accessing temporary, licensed shelter accommodations for youth." The barrier removed was the requirement that the parents of runaway minors be contacted. Now, when transgender teens arrive at a shelter seeking "protected health services", which include gender-affirming care, parents need not be made aware, even when there is not an accusation of child abuse or neglect.
GOP Washington state Rep. Chris Corry joined every Republican in voting against the bill.
KANSAS GOV. KELLY VETOES TRANS BATHROOM, YOUTH SEX CHANGE BANS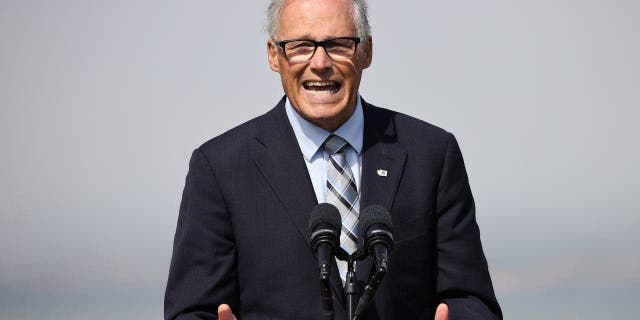 Washington Governor Jay Inslee. (Tayfun Coskun)
"If there is no documented case of abuse or neglect, that parent has the right to know where their kids are," said Corry. "It is an established value that is not just American, but fundamental across societies around the world."
The bill's sponsor, Democratic state Sen. Marco Liias, says parents of transgender children can be notified, but the priority is the young person's safety.
MISSOURI SCHOOL DISTRICT PUTTING 'THEY/THEYM' PRONOUNS IN MATH CLASS TO HELP KIDS' 'MATHEMATICAL IDENTITIES'
"When kids are on the streets, when they're homeless, we make sure there's a safe, stable environment for them," said Liias. Parents who protested the bill outside the state Capitol in Olympia say their rights and responsibilities are getting trampled. Some argue the bill demonizes parents who do not automatically support a child's desire to change genders.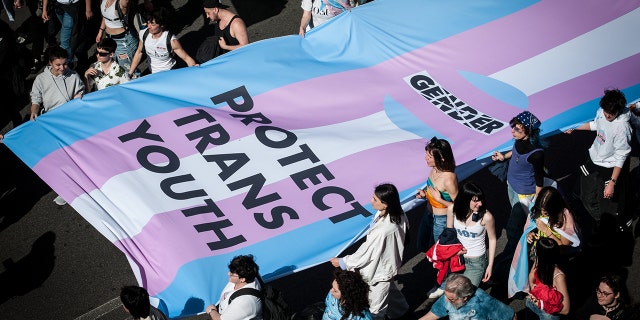 People take part in a rally on the occasion of the International Transgender Day of Visibility. (Andrea Ronchini)
In Oregon, House Bill 2002 appears on its way to passing and becoming law. It requires Medicaid and private insurance companies to cover so-called gender-affirming care, including the cosmetic procedures laser hair removal and facial feminization surgery. The age of consent for medical care in Oregon is 15 years old, which means teenagers that young do not need their parents' consent to receive the procedures. The bill requires insurance coverage for "any combination of gender-affirming treatment procedures" — which would include serious genital surgeries and mastectomies.
Republicans in the Oregon State Legislature unanimously oppose the bill, but did offer an amendment to require insurance companies to also cover the cost of de-transition care. Democrats who control the House, Senate and governor's office, rejected it.
"They are driving a state-mandated wedge between the parents and the child," said Republican lawmaker Ed Diehl. "I believe they just disagree with the way the children are being raised, they want to change the paradigm, the narrative those children grow up with."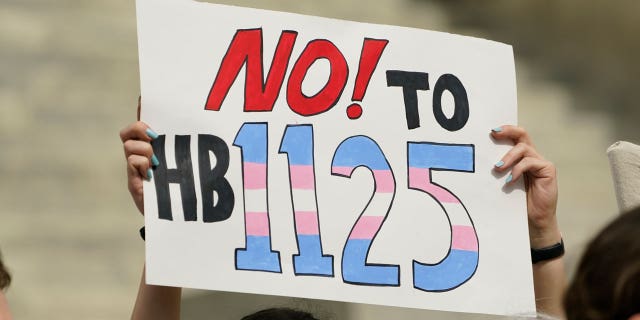 A protester holds a poster calling for lawmakers to vote against House Bill 1125, which would ban gender-affirming care for trans children at the Mississippi Capitol in Jackson, on Feb. 15, 2023. (Rogelio V. Solis)
In recent months, 16 states have passed laws banning transgender procedures for minors. This follows similar laws in Europe, including Sweden which was the first state to legalize the practice 41 years ago. The tolerant Scandinavian country saw a 1,500% increase in girls ages 13-17 saying they were transgender between 2008 and 2018. Sweden's National Bank of Health and Welfare said the rollback of rights for minors was necessary because "little is known about the effects of these treatments over the long term and the risks outweigh the benefits currently."
CLICK HERE TO GET THE FOX NEWS APP
A Reuters investigation found as many as one-third of de-transitioners had regret and many discovered they were really homosexuals.