Rep. Nancy Mace, R-S.C., sent Twitter users into a tizzy over the weekend by wearing a tuxedo to the White House Correspondents' Dinner, which prompted one user to worry about whether she was making a cultural statement on gender.
But Mace fired back at her critics on Monday morning in a tweet featuring photographs of the late Princess Diana, Audrey Hepburn, first lady Nancy Reagan and Donald Trump's former White House communication's director Hope Hicks – all wearing a tuxedo-esque suits at formal events.
"When they can't win the policy or the debate, they go straight for your appearance. So it goes… This ain't Gilead. And the pearl clutching has me [eyeroll emoji]," Mace said in a tweet Monday.
"Gilead" is an apparent reference to the television show "Handmaid's Tale," which depicts a futuristic society call Gilead in which women are suppressed and forced to wear the same uniform every day.
REP. NANCY MACE DOUBLES DOWN AFTER SOUNDING ALARM ON HUNTER BIDEN BUSINESS DEALS: 'NOT A CONSPIRACY THEORY'
On Saturday, the night of the semi-star-studded event known colloquially as "nerd prom," one user tweeted at Mace suggesting she was making a statement on recent controversy related to transgenderism.
MACE PRAISES BILL ENDING 'TOTAL BULLS—' OF ALLOWING TRANSGENDER PLAYERS ON WOMEN'S TEAMS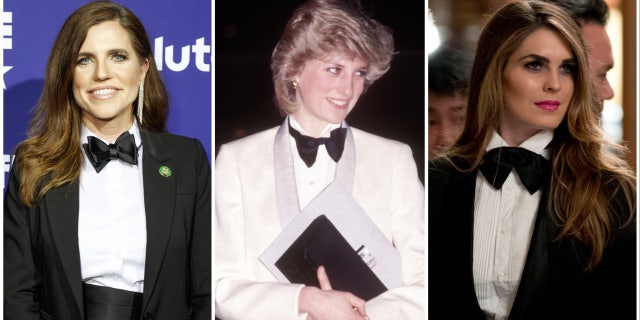 Rep. Nancy Mace, Princess Diana, Hope Hicks
"I have known you for a longtime. But your recent anti-life statements & positions are very concerning," self-identified political strategist Randan Steinhauser tweeted.
"Further, as our culture continues to undermine women by celebrating men who pretend to be them – why would you choose to wear a tux to the WHCD?" she said.
Mace replied in a tweet featuring herself and former first lady Melania Trump, also wearing a tuxedo:
"Curious… who wore it better? Then vs. now? I love freedom and liberty, including being free to wear a tux," Mace said.
REP NANCY MACE SAYS GOP 'TONE DEAF' ON ABORTION: 'WE HAVE NOT LEARNED OUR LESSON' FROM MIDTERMS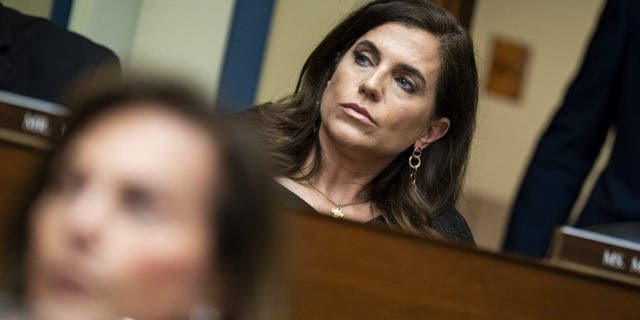 Rep. Nancy Mace attends a House Oversight and Accountability Committee business meeting in Washington, D.C., on Jan. 31, 2023. (Al Drago/Bloomberg via Getty Images)
The South Carolina Republican has been an outspoken critic of biological males playing in girls sports. Last month she praised the passage of the House's women's sports bill, saying that men playing in women's athletics is "total bulls—."
"I'm a girl mom. Also, my girl is an athlete. I cannot imagine her having to be put in that position where there's a biological male in her locker room," said Mace in a press conference.
CLICK HERE TO GET THE FOX NEWS APP
"Or if she's trying to compete for a college scholarship that it gets taken away by a man who's much stronger and has much greater physical capabilities that she does," Mace added. "It's complete and total bulls—. It's cruel."