f
Video
The Maine House voted Tuesday night to enact a bill to expand access to abortions, putting the proposal one final vote away from going to the governor for her signature.
The Senate, which supported the bill in an initial vote Tuesday, must cast a final vote on the legislation that'd give the state one of the least restrictive abortion laws in the country.
The House vote, 73-69, capped an emotional day that included demonstrators against the bill holding signs, singing hymns and chanting "kill the bill!" in the State House hallways.
"This bill is so extreme that the very thought of it being enacted crushes my soul," said Rep. Tracy Quint, R-Hodgdon, one of about 30 lawmakers to speak on the House floor.
Rep. Katrina J. Smith, R-Palmero, who became the mother of a healthy daughter after being told her baby wouldn't live, warned of the consequences of putting "blind trust in doctors."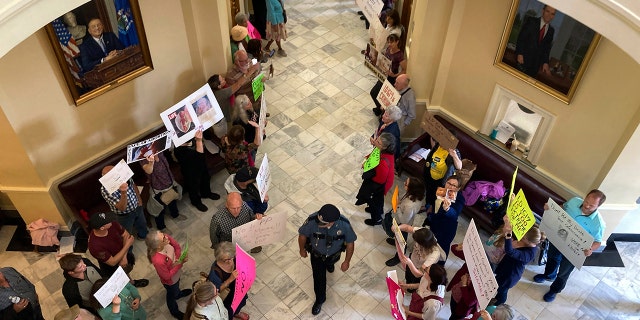 Demonstrators opposed to a bill to expand abortion access gather in the halls of the Maine State House on June 27, 2023, in Augusta, Maine.  (AP Photo/David Sharp)
Supporters, meanwhile, said the change was necessary to give mothers a choice in heartbreakingly rare circumstances when fatal anomalies are discovered later in a pregnancy.
The votes just came days after the one-year anniversary of the U.S. Supreme Court decision that concluded women don't have a constitutional right to an abortion, returning authority to the states.
The 21-13 Senate vote and the later vote in the House lacked the 11th-hour drama when Democrats hustled to ensure support before the bill was narrowly approved late last week in the House, passing 74-72 after the chamber took an hourslong break and the vote was held open for about 45 minutes.
Democratic Gov. Janet Mills said during her reelection campaign that she was content with the existing abortion law, but she unveiled a proposal to expand abortion access in January in response to the case of a woman who had to travel to Colorado for an abortion after discovering 32 weeks into her pregnancy that her baby would not survive outside the womb.
House Speaker Rachel Talbot Ross, sponsor of the governor's bill, was targeted over the weekend with anti-abortion flyers calling her a "baby killer" and chalk messages left outside her Portland home.
Portland police launched an investigation and the Christian Civic League of Maine condemned the tactics.