As law enforcement in Pennsylvania near the 72-hour mark in the ongoing search for escaped inmate, Michael Burham, Fox News has learned details on the skillset and circumstances which may have helped Burham evade arrest thus far.
A source close to the investigation tells Fox News, Burham has firearms training and several family members located in neighboring states to Pennsylvania.
The new information comes as Pennsylvania State Police caution those who live nearby, or visit the area of Warren County to heed Burham as "extremely dangerous."
Burham is described as a "survivalist" by state police, who also indicated they'd found evidence suggesting the escaped inmate may still be in the area.
"I think that it's entirely possible that he may be getting some assistance," Bivens said.
Burham escaped from the Warren County Jail late Thursday night. Investigators said he climbed on top of exercise equipment to access the roof of the jail, and then used a makeshift rope to scale down.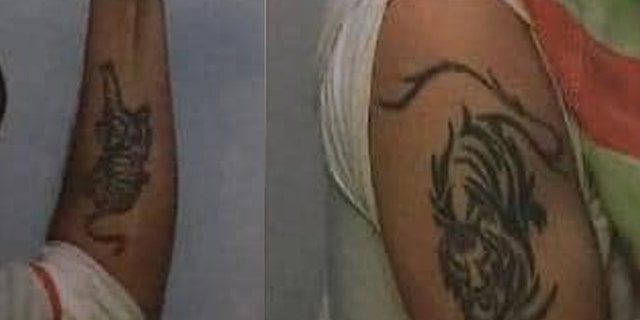 Escaped murder suspect Michael Burham pictured with tattoos on his left forearm and right biceps. (Jamestown Police Department)
Another law enforcement source confirmed to Fox that the makeshift rope stretched from the roof of the building to a backdoor awning – leaving only a short distance for Burham to jump to the ground and flee.
EX-FIANCÉE OF TEXAS MAN ACCUSED OF HELPING TO MURDER HIS BABY'S MOTHER IN 2020
"This is an area that people from outside the area come to for hiking and kayaking, canoeing." Bivens said. "It's hard to say what his mindset is, whether anyone is in additional danger. I do think that not only him, but anyone in this situation becomes more desperate over time.
State police have used infrared technology, helicopters and drones to search for Burham through the densely wooded terrain.
In May, after Kala Hodgkin was gunned down in New York near the Pennsylvania border, investigators said Burham fled the area after being named a suspect.
GEORGIA TEENAGERS ACCUSED OF MURDER AFTER EGGING INCIDENT GONE WRONG: POLICE
Officers said he went on an interstate crime spree – which included the kidnapping of an elderly couple at gunpoint, and other crimes, according to a criminal complaint filed by the FBI.
Anyone with information on Burham's whereabouts is asked to contact Pennsylvania State Police at 815-728-3600.
Fox News' Jennifer Johnson contributed to this report.