Nebraska lawmakers planned to begin debate Wednesday on a bill that would ban abortion once cardiac activity can be detected in an embryo, which is generally around the sixth week of pregnancy and before most women even know they are pregnant.
But the effort in the Republican-controlled state remains in question, as a Republican co-signer of the bill has introduced an amendment to adjust the proposal to banning abortion at 12 weeks, signaling that a ban set very early in pregnancy could face pushback even from those who want further restrictions on abortion.
Sen. Merv Riepe, of Ralston, introduced the amendment last month, saying he was concerned that the six-week proposal, introduced by Thurston Sen. Joni Albrecht, might not give women enough time to know that they're pregnant. But he later made clear that he would vote to advance Albrecht's bill on Wednesday if the vote is close.
"I wanted to have some dialogue," Riepe said at a committee hearing the day after he introduced the amendment. "And I think I'm clearly on the record that I will be … the 33rd vote to move it."
NEBRASKA GOV. PILLEN APPOINTS REPLACEMENT FOR OUTGOING CONSERVATIVE LAWMAKER
Albrecht has said she believes she has the votes to advance her bill, which includes exceptions for cases of rape, incest or to save the life of the mother.
Lawmakers on Wednesday will take up the first of three rounds of debate the bill must survive to pass. Opponents of the bill have promised to filibuster, meaning they will force debate to stretch the full eight hours before a vote to end debate can be taken. Whether the bill advances from the first round will hinge on any lawmakers who might defect from the Legislature's conservative or left-leaning coalitions on the issue.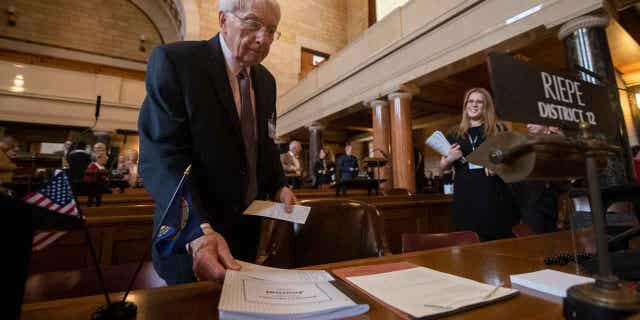 Sen. Merv Riepe is pictured on Jan. 4, 2023, at the Nebraska State Capitol in Lincoln, Nebraska. State lawmakers planned to begin debate on April 12, 2023, on a bill that would ban abortion once cardiac activity can be detected in an embryo. (Kenneth Ferriera/Lincoln Journal Star via AP, File)
Nebraska has the only single-chamber, officially nonpartisan legislature in the United States. But each of its 49 lawmakers identify as Republican or Democrat and tend to propose and vote for legislation along party lines.
NEBRASKA REPUBLICAN RESIGNS FROM LEGISLATURE IN FAVOR OF LINCOLN MAYORAL BID
Republicans hold 32 seats, while Democrats hold 17 seats. Although bills can advance with a simple majority, it takes a supermajority — 33 votes — to end debate to overcome a filibuster. So a single lawmaker breaking from the party line could decide whether the bill advances or dies for the year.
That divide played heavily in the defeat last year of Albrecht's so-called trigger bill that would have automatically banned nearly all abortions in the state, even those resulting from rape and incest, as soon as the U.S. Supreme Court overturned Roe v. Wade, which had guaranteed the right to abortion nationwide for nearly five decades. That trigger bill fell two votes short of the 33 needed to overcome a filibuster.
The failure came as a surprise in a state that, to that point, had a history as a leader in abortion restrictions. In 2010, Nebraska enacted the country's first law banning abortion after 20 weeks of pregnancy based on the disputed theory that a fetus at that point can feel pain.
CLICK HERE TO GET THE FOX NEWS APP
But Nebraska anti-abortion advocates have watched in frustration as other GOP-controlled states have moved quickly to ban or restrict abortion access since the fall of Roe. Abortion is already effectively banned at all stages of pregnancy in more than a dozen states. That number would be higher, except that courts have blocked bans in another six states.
Dueling federal court decisions handed down last week have also thrown into question access to abortion pills.