A New Jersey wildfire that continues to burn Wednesday – forcing evacuations and threatening multiple structures – grew overnight to 2,500 acres.
The Manchester Township blaze is 10% contained and the New Jersey Fire Service said mandatory evacuations have been ordered in Lakehurst, with approximately 170 structures evacuated in both Manchester and Lakehurst. Manchester Township has a population of about 45,000, according to census data.
The Jimmy's Waterhole Fire threatened 75 structures, with residents relocated to the Manchester Township High School. No injuries were immediately reported.
They are being supported by the American Red Cross, Manchester Township EMS, Manchester Police Department and the Ocean County Sheriff's Department.
NEBRASKA WILDFIRE BURNS THROUGH 650 ACRES OF LAND ALONG MISSOURI RIVER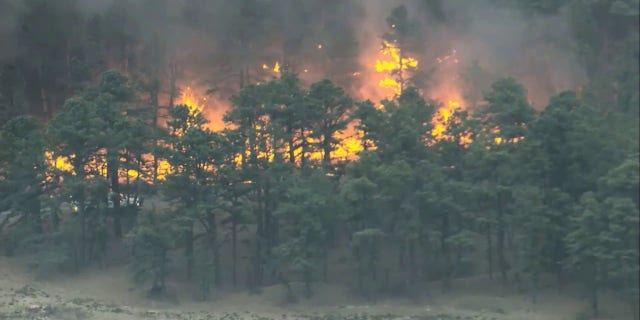 Orange and yellow flames peak out from behind the trees (WTXF)
Several roads were closed around the wildfire, including parts of Route 539 and Route 70.
The agency said on social media that backfiring – a fire that is intentionally set along the interior edge of a fireline to consume fuel in the path of a wildfire or to change its direction – is ongoing and that structure protection is being provided by local volunteer fire departments.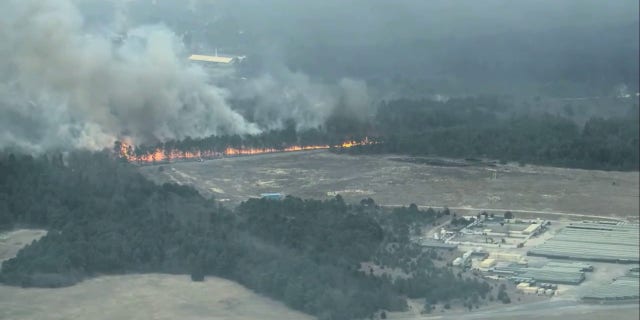 Smoke billows into the sky from New Jersey's latest wildfire (WTXF)
Just four hours before the update, the Jimmy's Waterhole Fire was reported at just 500 acres. The Forest Fire Service said it was responding to the incident shortly before 7 p.m. ET.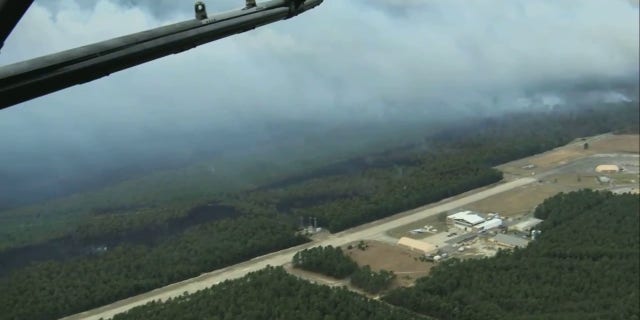 Mandatory evacuations were ordered around the Jimmy's Waterhole Fire (WTXF)
The National Weather Service office in Mount Holly and Philadelphia said the Ocean County fire was visible on its radar.
NEW MEXICO GOVERNOR SIGNS BILL TO PROHIBIT PRESCRIBED BURNS AS FOREST MANAGEMENT IN RESPONSE TO 2022 DISASTER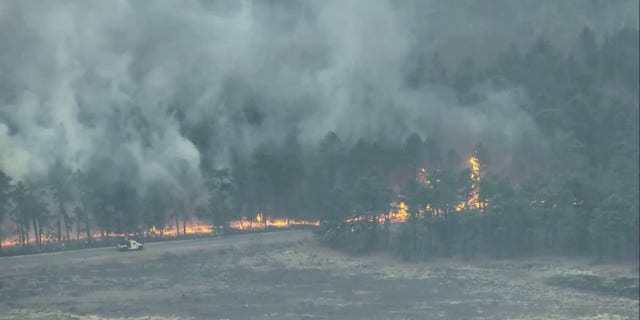 A truck drives on a road surrounded by flames and smoke from the Jimmy's Waterhole Fire (WTXF)
"Our thoughts are with those affected by the fire near Manchester Township [and] responders who are working to contain the fire," it said in a tweet. "Unfortunately, the weather won't be providing much help today. More warm, dry and breezy conditions are expected. Next chance for rain is the weekend."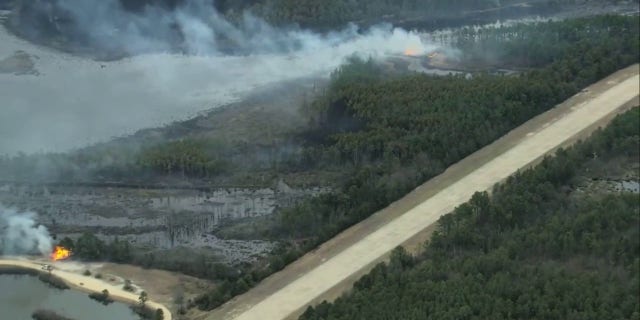 Smoke from a New Jersey fire seen in an aerial shot (WTXF)
The National Interagency Fire Center reported more than 7,700 wildfires across the nation through March. Those numbers were below the 10-year averages of 9,838 wildfires and 486,968 acres burned.
CLICK HERE TO GET THE FOX NEWS APP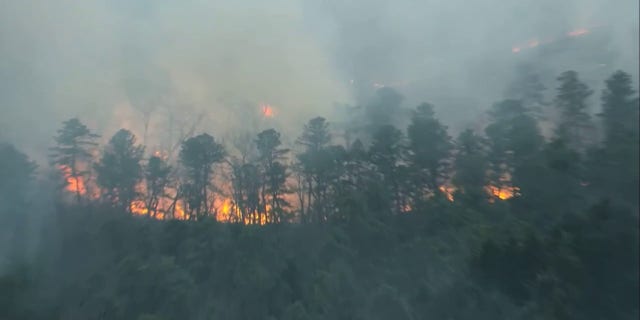 The Jimmy's Waterhole Fire has jumped by 2,000 acres (WTXF)