A group of 69 Republican lawmakers are asking a federal appeals court to uphold the injunction issued by a Texas judge last week that would halt the Food and Drug Administration's more than two-decade old approval of the abortion pill mifepristone.
In court documents filed Tuesday, the GOP members of Congress write that they are "committed to protecting women and girls from the harms of the abortion industry." They assert FDA approval of medication abortions, which they call chemical abortions, was "unlawful."
"By approving and deregulating chemical abortion drugs, the FDA has not followed Congress' statutorily prescribed drug approval process and has subverted Congress' critical public policy interests in upholding patient welfare," the Republicans argue. "The FDA's lawless actions ultimately endanger women and girls seeking chemical abortions."
The brief was led by Sen. Cindy Hyde-Smith, R-Miss., and Rep. August Pfluger, R-Texas. It comes in response to 240 congressional Democrats that asked the 5th Circuit to overturn the injunction.
SCHUMER SAYS JUDGE'S MIFEPRISTONE ABORTION PILL RULING 'COULD THROW OUR COUNTRY INTO CHAOS'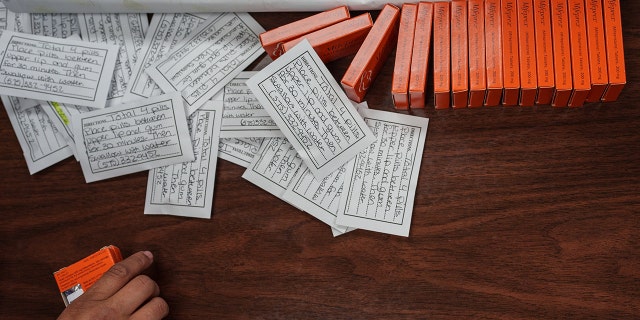 Doses of Mifepristone, the abortion pill, and Misoprostol, which is taken the day after to cause cramping and bleeding to empty the uterus, are pictured at Dr. Franz Theards Womens Reproductive Clinic in Santa Teresa, New Mexico on May 7, 2022.  (Paul Ratje/The Washington Post via Getty Images)
Last week, in an unprecedented and highly controversial decision, Trump-appointed U.S. District Judge Matthew J. Kacsmaryk issued an injunction against the FDA's approval of mifepristone, a popular drug used in more than half of all abortions in the U.S. The Biden administration quickly filed an appeal to the 5th Circuit Court of Appeals.
Mifepristone, under the brand name Mifeprex, is part of a two-drug regimen that first blocks hormones needed to keep an unborn baby alive and then causes cramps and contractions to expel the dead fetus from the mother's womb.
The drug was approved by the FDA in 2000. Since then, medication abortions have grown in popularity and now make up nearly 60% of all abortions in the United States. More than five million women in the United States have used mifepristone to abort their pregnancies, according to the drug's manufacturer.
GROWING NUMBER OF DEMOCRATIC STATES ARE STOCKPILING ABORTION DRUGS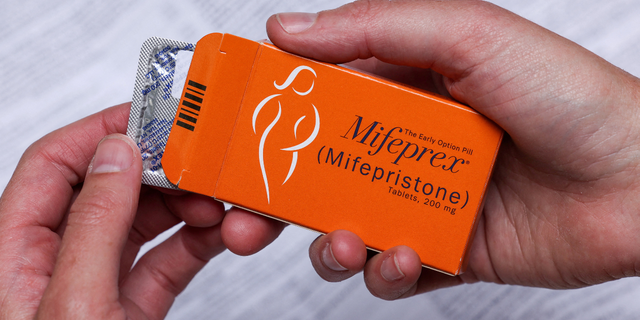 A Texas judge has halted FDA approval of mifepristone, a drug used to induce abortions. The Department of Justice is appealing the decision.  (Reuters)
Democratic lawmakers have issued dire warnings that the Texas judge's decision not only ignores the FDA's expert review process, but also opens the door for other longstanding approved medications to be challenged. In their brief, which was joined by Senate Majority Leader Chuck Schumer, D-N.Y., and House Minority Leader Hakeem Jeffries, D-N.Y., Democrats said Kacsmaryk's decision "has no basis in law."
"While Congress permitted some judicial review of FDA's approval decisions, it did not invite federal courts to substitute their judgment for the expert conclusions of FDA's scientists," the Democrats wrote.
The brief was joined by 50 senators and 190 House Democrats, who argued an emergency stay is needed on the Texas judge's injunction "to mitigate the imminent harm facing members of the public, many of whom rely on the availability of mifepristone for reproductive care — and many more of whom rely on the integrity of FDA's drug approval process for continued access to life-improving and lifesaving drugs."
AOC, OTHER PRO-CHOICERS WANT TO IGNORE COURT RULING BLOCKING ABORTION PILL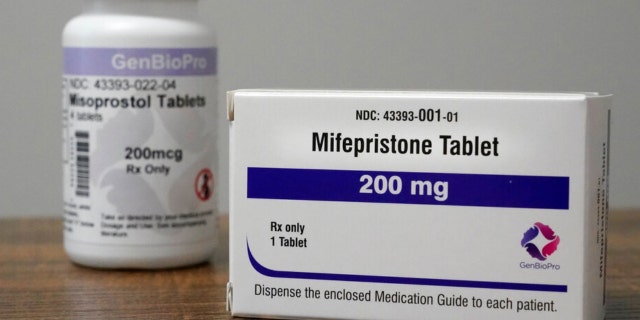 A group of 69 Republicans filed a brief supporting a lawsuit to halt FDA approval of mifepristone, arguing the agency approved the drug unlawfully.  (AP Photo/Jeff Roberson)
Republicans argued more harm would come to women and girls if the drug continues to be approved and asked the court to uphold the injunction.
CLICK HERE TO GET THE FOX NEWS APP
"[We] urge the Court to deny the emergency motion for a stay pending appeal, which will allow the District Court's Section 705 stay to go into effect and protect women and girls from the harms of chemical abortion drugs," they wrote.