Progressive Nevada Attorney General Aaron Ford, a Democrat, is pulling back on his soft on crime approach when it comes to the state's efforts to crackdown on the worsening fentanyl crisis.
After helping craft a 2019 law, AB236, that weakened penalties for larger amounts of drug possession, including fentanyl, Ford is doing an about-face and calling for the state legislature to pass another bill that would reduce the amount of fentanyl required to charge someone with a felony.
According to Nevada law, a person in possession of fentanyl would only be charged with a misdemeanor unless the amount possessed was at least 100 grams, an amount the Drug Enforcement Agency (DEA) says could kill between 300,000 and 500,000 people.
DEMOCRAT INTRODUCES BILL THAT WOULD MANDATE POLLING PLACES IN NEVADA JAILS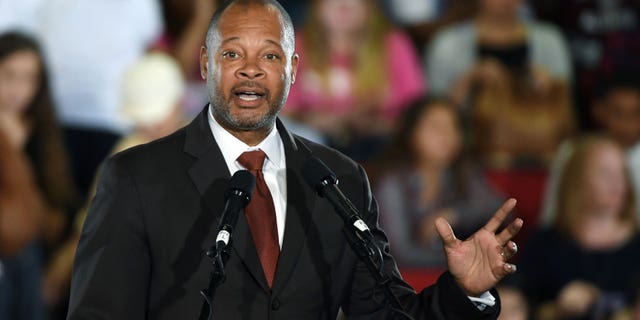 Then-Democratic Nevada Senate Majority Leader and candidate for Nevada attorney general Aaron D. Ford (D-Las Vegas) speaks during a get-out-the-vote rally featuring former U.S. President Barack Obama at the Cox Pavilion as he campaigns for Nevada Democratic candidates on October 22, 2018, in Las Vegas, Nevada. (Ethan Miller/Getty Images)
The new bill, introduced by state Democratic Senate Majority Leader Nicole Cannizzaro, would lower that threshold of fentanyl possession to four grams, the amount previously in place prior to the law supported by Ford being enacted. Although a significantly lower amount, four grams of fentanyl is still enough to kill between 1,200 and 2,000 people.
Additionally, Ford is calling for the state legislature to pass a second bill that would put in place escalating penalties for fentanyl possession starting at 14 grams. These penalties include up to life in prison.
NEVADA SENATE DEBATES HARSHER FENTANYL PENALTIES IN RESPONSE TO LARGEST OVERDOSE CRISIS IN US HISTORY
In contrast to the two bills, Republican Gov. Joe Lombardo has called for any possession of fentanyl at all to be classified as a felony offense.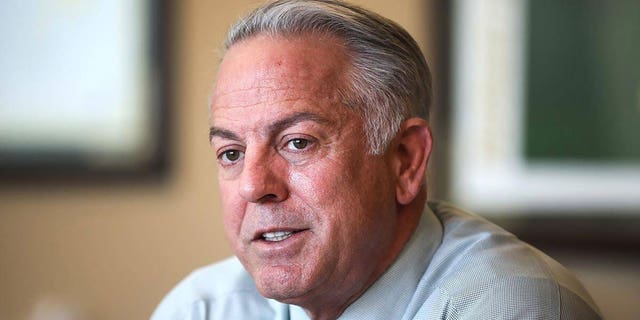 Nevada Gov. Joe Lombardo speaks with the Las vegas Review-Journal. (Rachel Aston/Las Vegas Review-Journal/Tribune News Service via Getty Images)
Despite Ford's change of heart, Republicans in Nevada haven't let him off easy. Better Nevada PAC, a group with close ties to Lombardo, blasted the attorney general for what they said was his contribution to the effects of the fentanyl crisis hitting the state.
"By his own admission, the bill Aaron Ford is pushing would allow someone to possess enough fentanyl to potentially kill thousands of people and escape felony charges," John Burke, the group's spokesman, said in a statement. "Ford enabled this problem by backing AB 236, he's not fooling anyone by pushing this misguided legislation that still leaves Nevadans at risk."
WHITE HOUSE CITES 'EMERGING THREAT' OF 'TRANQ,' TRANG-LACED FENTANYL
"Thankfully Governor Lombardo has called for making the possession of any amount of fentanyl a felony. The Nevada Legislature must act to make that the law of the land," he added.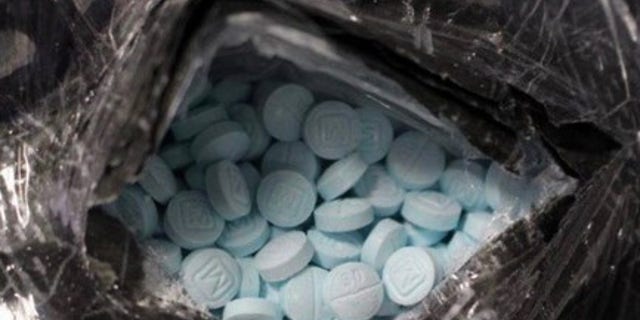 U.S. Customs and Border Protection agents seized over 1.2 million fentanyl pills between two busts on Dec. 29. (U.S. Customs and Border Protection)
CLICK HERE TO GET THE FOX NEWS APP
When reached for comment, Ford's office said in a statement that the new bill was "intended to target those who traffic in fentanyl," and that it was "not intended to incarcerate those struggling with addiction."
"We are not in favor of using jail as inpatient rehabilitation. We have been and will continue to be in discussion with stakeholders on this issue to ensure the legislation's intent and impact coincide," the statement said.
"Moreover, this bill does not go against the intent of the Legislature in crafting and passing Assembly Bill 236 in 2019. To the contrary, it's entirely aligned with its intent, best stated by Nevada Supreme Court Justice James Hardesty, who testified on the bill with now-Speaker of the Assembly Steve Yeager that weights/amounts would need to be adjusted based on the nature of particular drugs and what we're seeing on the ground," it said.
"As Justice Hardesty said, 'not all drugs are the same and the quantities of many drugs are extremely impactful, even low quantities.' This bill and my approach acknowledges these facts and is not inconsistent with AB 236," it added.