Protesters disrupted Texas Gov. Greg Abbott's school choice event Tuesday, calling him a "traitor" during a speech at a church in southeast Houston.
During a "Parent Empowerment Night" at Reflections of Christ's Kingdom World Outreach International Church, the Texas governor was promoting school voucher programs when several people disrupted the event with shouts of protest.
"We're here tonight for a purpose and a reason," Abbott said before a protester cut him off.
"We're grounded in Jesus. We're grounded in justice. You have got to go," one demonstrator shouted. "Public schools matter."
TEXAS GOV. ABBOTT TELLS CHICAGO MAYOR TO TAKE COMPLAINTS ON BORDER CRISIS TO THE WHITE HOUSE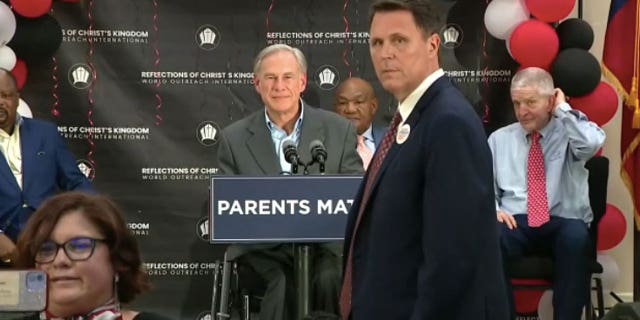 Abbott smiles as protesters disrupt his speech. (KRIV)
"You're a traitor… You gotta go," said Cesar Espinsosa, executive director of progressive group FIEL Houston.
TEXAS SHOOTING SUSPECT: GOV. ABBOTT, LAWMAKERS RESPOND AFTER FOUR-DAY MANHUNT ENDS WITH ARREST
Espinsosa also yelled: "You call people illegal, and they're not," in reference to Abbott recently referring to the five shooting victims who were killed in Cleveland, Texas as "illegal immigrants." His team later apologized after it was found that at least one of the individuals was in the U.S. legally.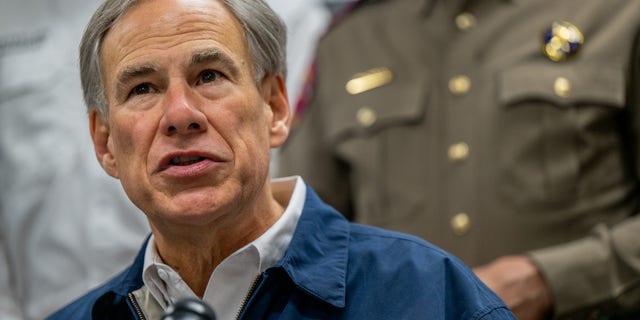 Texas Gov. Greg Abbott announced news initiatives to secure the Texas-Mexico border in anticipation of the ending of Title 42. (Brandon Bell)
After the chanting protesters were escorted out of the room by multiple security guards, a supporter yelled "God bless Greg Abbott" and the crowd applauded the Republican governor.
Abbott allowed the protesters to be removed before responding. "They are trying to silence the voices of the parents in this state," he said.
CLICK HERE TO GET THE FOX NEWS APP
"What you should be given is a choice to find a school that's right for your child and that is why I am here tonight," Abbott said during his speech to promote the expansion school choice programs in the state.