EXCLUSIVE: House Republicans are demanding the U.S. Postal Service provide information related to inbound mail from China as they investigate the ability of Chinese companies to skirt U.S. regulations and avoid U.S. duties, taxes and scrutiny.
House China Select Committee Chairman Mike Gallagher, R-Wis., and House Oversight Committee Chairman James Comer, R-Ky., are conducting a joint investigation into Chinese companies that take advantage of a loophole that allows them to avoid U.S. inspection of imports destined for U.S. markets.
HOUSE COMMITTEE RELEASES 'SHOCKING' FINDINGS IN REPORT ON CHINESE BUSINESSES OPERATING IN US
Gallagher and Comer penned a letter to U.S. Post Master General Lous DeJoy Wednesday requesting documents, information and data collected by USPS relating to inbound mail from China. Fox News Digital exclusively obtained the letter.
CHINA TARGETING STATE, LOCAL LEADERS IN PUSH TO INFLUENCE BEIJING-FRIENDLY POLICIES: INTEL OFFICIALS
The request comes amid the House China Select Committee's investigation into forced labor concerns with Chinese "fast fashion" brand Shein and Temu. That investigation has found those companies' business models rely "heavily" on the de minimus provision that allows them to ship packages directly to the American consumer, avoiding responsibility for compliance with prohibitions on forced labor.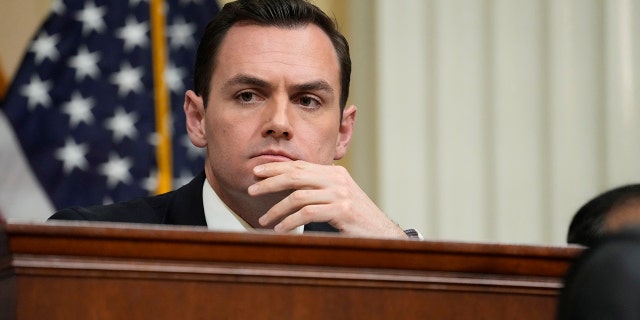 Chairman Rep. Mike Gallagher, R-Wis., listens during a hearing of a special House committee dedicated to countering China, on Capitol Hill, Tuesday, Feb. 28, 2023, in Washington.  (AP Photo/Alex Brandon)
Federal agencies, like U.S. Customs and Border Protection, have made certain data available related to China-based origin shipments that may use the de minimus entry, according to the lawmakers.
"Such information will provide the committees with important insight into the volume and value of shipments from the PRC," they wrote.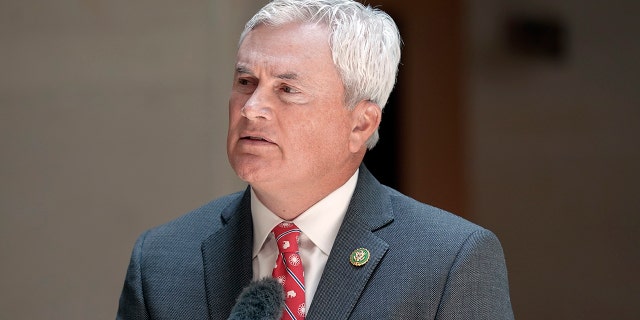 House Oversight and Accountability Committee Chair James Comer, R-Ky. (AP Photo/Mariam Zuhaib)
Gallagher and Comer are requesting information, documents and data on all available inbound mail records from China; records pertaining to de minimus shipments from China; the total U.S. dollar value of dues and inward rates currently assessed to China; and the full terminal dues schedule for every country around the globe.
The China Committee released an interim report on its bipartisan investigation into the fast fashion brands last month, which revealed that the companies have "no system to ensure compliance with the Uyghur Forced Labor Prevention Act," which lawmakers say all but guarantee that shipments made by Uyghur forced labor are entering American homes.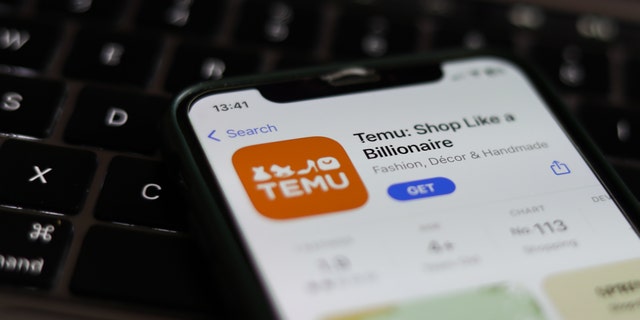 A laptop keyboard and Temu on App Store displayed on a phone screen (Jakub Porzycki/NurPhoto via Getty Images)
The committee's report also states that Temu admitted that it "does not expressly prohibit third-party sellers from selling products based on their origin in the Xinjiang Autonomous Region."
"SHEIN has provided detailed information to the Select Committee and will continue to engage transparently with Members to answer their questions," a Shein spokesperson told Fox News Digital. "We have zero tolerance for forced labor and have implemented a robust system to support UFLPA compliance, which includes a code of conduct, independent audits, robust tracing technology and third-party testing. We have no contract manufacturers in the Xinjiang region. If any cotton from an unapproved region is detected, we take immediate action such as suspending production, halting shipments to the United States and removing product listings."
"As a global company, our policy is to comply with the customs and import laws of the countries in which we operate. SHEIN continues to make import compliance a priority, including the reporting requirements under U.S. law with respect to de minimis entries," the spokesperson said.