Five major U.S. cities and the state of California will receive federal help to get unsheltered residents into permanent housing under a new plan launched Thursday as part of the Biden administration's larger goal to reduce homelessness 25% by 2025.
The All Inside initiative will partner the U.S. Interagency Council on Homelessness and its 19 federal member agencies with state officials in California and local governments in Los Angeles, Chicago, Dallas, Seattle and the Phoenix metro area.
The goal is for the federal government to provide "knowledge, resources and elbow grease" to population centers where nearly half the nation's unhoused residents live, said Susan Rice, President Joe Biden's domestic policy advisor.
SQUATTER VICTIMS FED UP WITH BEING LANDLORDS AFTER FEELING WRONGED BY LEGAL SYSTEM
More than 580,000 Americans were homeless in 2022, with 4 out of 10 of them unsheltered and sleeping on sidewalks and in tents and cars, Rice said.
"We know we cannot meaningfully address our nation's homelessness problem without a distinct focus on unsheltered homelessness," she said during a livestreamed announcement with the cities' mayors and other officials.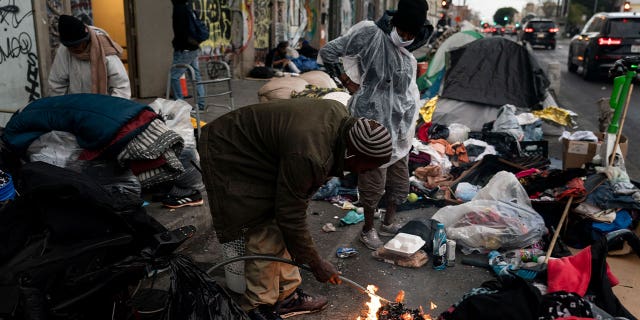 Robert Mason, a 56-year-old homeless man, warms up a piece of doughnut over a bonfire he set to keep himself warm on Skid Row in Los Angeles on Feb. 14, 2023. Los Angeles, Chicago, Dallas, Seattle, Phoenix, and the state of California will receive federal help to give homeless people permanent housing. (AP Photo/Jae C. Hong, File)
Agencies, including the Department of Health and Human Services, Housing and Urban Development, Social Security Agency, Department of Labor, Federal Emergency Management Agency, will be involved under Thursday's announcement to help coordinate housing opportunities.
"If anything, we know that our current system on the federal, state and county level isn't designed for the emergency that we are facing today," Bass, a Democrat, said.
Seattle Mayor Bruce Harrell said the White House plan will "unite our systems," bringing solutions that are effective in some cities to other areas.
"What's working in one city will work here because we're dealing with the same American issues," Harrell, a Democrat, said.
Meanwhile, the city of Phoenix is under increasing pressure to do something about a massive downtown encampment known as The Zone, where as many as 1,000 unhoused people have congregated near social services.
Democratic Gov. Katie Hobbs, a former social worker, successfully pushed for $150 million to be included in Arizona's Housing Trust Fund in the state's budget to shore up rent and utility assistance programs, eviction prevention, and build new shelters and affordable housing.
Biden's All In strategy roadmap made public last December follows a 2010 effort called Opening Doors, which was the nation's first comprehensive effort seeking to prevent and end homelessness.