The departure of Susan Rice, President Biden's domestic policy adviser, this week leaves the White House down a key moderate voice on immigration and border security – just as the Title 42 public health order is due to end in a little over two weeks.
The White House announced Rice's departure on Monday. As director of the Domestic Policy Council, Rice drove the formulation and implementation of Biden's domestic policy agenda, "from economic mobility and racial equity to health care and immigration," according to her bio on the White House's website.
But Rice had also served as a more moderate voice on some aspects of immigration – often drawing the ire of immigration activists who pushed the administration to open the border even more than it already has.
SUSAN RICE STEPPING DOWN AS BIDEN'S DOMESTIC POLICY ADVISER
Most recently, the New York Times reported on Rice's response to a 2021 memo that showed she recognized more liberal border policies encourage migrants to make the journey north and send their children across unaccompanied.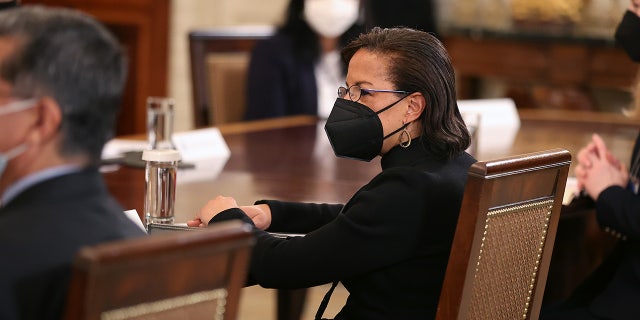 Domestic Policy Council Director Susan Rice meets with President Joe Biden, members of his Cabinet and immigration advisers at the White House on March 24, 2021. (Chip Somodevilla/Getty Images)
Rice reacted angrily to the memo, which detailed the position of liberal activists by saying, "Title 42 is leading to family separation – parents are choosing to send their kids on the dangerous paths because the circumstances are so dire."
"This is B.S.," Rice wrote on the memo. "What is leading to 'voluntary' separation is our generosity to UCs!"
UCs [unaccompanied children] who are encountered at the border are transferred from Customs and Border Protection (CBP) to Health and Human Services (HHS) care, from which point they are transported to sponsors already in the country – typically a parent or relative who may also be in the U.S. illegally. The Biden administration had ruled out returning UCs under the Title 42 public health order.
The comments are the latest indication that Rice represents a voice in the administration that believes migrants make the journey to the U.S. when policies encourage them to do so. It is in contrast to claims by activists – a loud voice within the administration – who say "dire" circumstances are driving the Biden-era migrant crisis.
HOMELAND GOP UNVEILING BILL THAT WILL SERVE AS 'FORCEFUL RESPONSE' TO BIDEN'S BORDER CRISIS, EXPERT SAYS
It isn't the first time that Rice poured cold water on some of the ambitions of radical activists. Even as part of the Biden transition team, Rice was telling Spanish media outlets in late 2020 that the situation would not transform overnight.
"We will be able to take some steps to change policies right away," Rice said. "Others will take time to put in place, and the situation at the border will not transform overnight due in large part to the damage done over the last four years. But we are committed to addressing it in full."
"Migrants and asylum seekers absolutely should not believe those in the region peddling the idea that the border will suddenly be fully open to process everyone on Day 1. It will not," she said separately.
In 2023, the administration appeared to recalibrate its policies ahead of the end of Title 42 – a COVID-era public health order that allows for the rapid expulsion of migrants at the southern border – on May 11. The administration has proposed a rule that would bar migrants from claiming asylum if they had crossed the U.S. illegally and had also failed to claim asylum in a country through which they have passed previously.
It has also reportedly discussed re-introducing family separation at the border – although officials have subsequently said it is not on the table.
Sen. Bob Menendez, D-N.J., a top immigration dove, has been critical of Rice and was recently asked if he believed the move for family detention was coming from Homeland Security Secretary Alejandro Mayorkas.
"I don't know if Secretary Mayorkas is the genesis of this idea, might be more like Susan Rice," Menendez told reporters, according to The Hill. The Times also reported that Menendez had accused her of being behind enforcement measures that made Biden "the asylum denier in chief."
Immigration activists have been highly critical of Rice's role in the administration. The New Republic reported how one activist called Rice "one of the most anti-immigrant folks in the administration."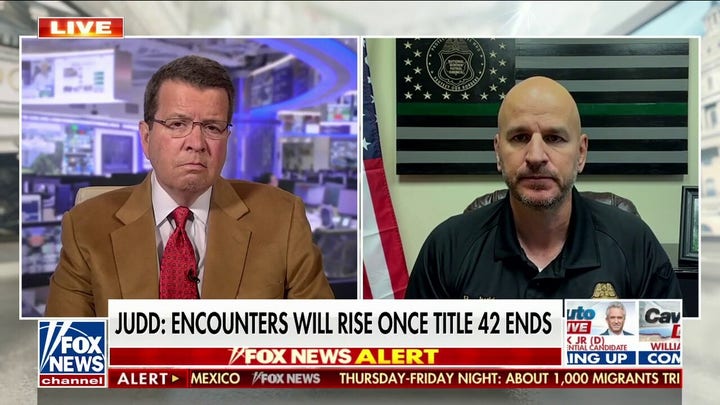 Video
Rice defended herself from criticism from the left in an interview with the New York Times, and noted first the obligation of the administration to enforce immigration law.
"We have an obligation to enforce our laws," she said, "but at the same time we have an obligation to make it possible for people with legitimate protection needs and asylum claims to be heard and to have their cases adjudicated."
CLICK HERE TO GET THE FOX NEWS APP
Rice's departure comes just over two weeks before the Title 42 public health order is due to expire. Officials fear that the expiration of the order, which will end when the COVID-19 national emergency does, will spark a new wave of illegal immigration at the border. Officials had previously estimated up to 14,000 migrant encounters a day when the order was first scheduled to drop in December.
The administration says it has a plan in place to deal with any surge and is increasing resources to the border while working closely with other governments and non-governmental organizations. However, it has also responded to criticism from Republicans in particular by calling on Congress to pass immigration reform measures to fix what it says is a "broken" immigration system.
Fox News' Danielle Wallace contributed to this report.