Sen. Ted Cruz, R-Texas, said Wednesday that President Biden lacks "mental faculties" to negotiate with Republicans on the debt limit, complaining that in his stead, "radical children" among the White House staff would force the U.S. government into default.
In a show of unity supporting the House GOP debt limit bill passed last week, more than a dozen Republican senators, led by Sen. Rick Scott, R-Fla., held a press conference to tout the legislation and call for Biden and Senate Majority Leader Chuck Schumer to cave to their demands for spending cuts.
When it was Cruz's turn at the podium, the conservative Texan recalled that it was Biden who, as vice president, led talks with the GOP to avert a near-default in 2011.
HOUSE PASSES MCCARTHY'S DEBT CEILING BILL BY TWO VOTES; FOUR REPUBLICANS VOTE AGAINST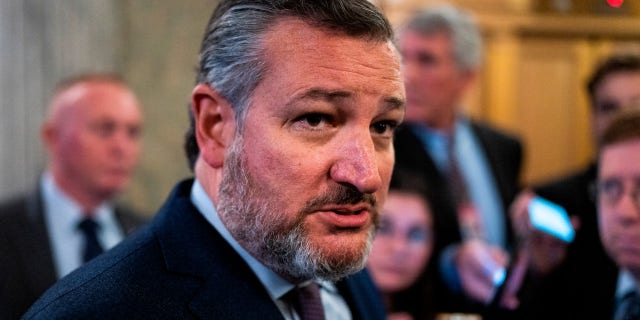 Sen. Ted Cruz, R-Texas, was among the Republicans who gathered at a press conference on Wednesday to support the House GOP debt limit bill. (Tom Williams/CQ-Roll Call, Inc via Getty Images)
"President Joe Biden needs to do the same thing. And I'll say, sadly, the reason he hasn't so far, I believe, is because his mental faculties are too diminished right now to do what he did in 2011, to sit down and actually work together on a solution to the problems," Cruz said.
"What we're left with is a bunch of young staffers in the White House, radical children, who are perfectly willing to risk a default on the debt because they have no appreciation of the chaos and misery and damage."
SCHUMER REJECTS HOUSE DEBT CEILING BILL, PLANS HEARINGS TO 'EXPOSE' GOP'S 'RECKLESS LEGISLATION'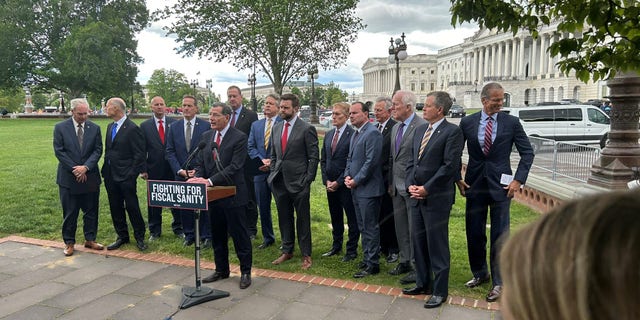 Senate Republicans (not all pictured) gather outside for a press conference in Washington, D.C., to urge President Biden and Senate Majority Leader Schumer to cave to their demands for spending cuts.
Cruz said it was a "major victory" that the president invited the top four Congressional leaders to the White House for a May 9 meeting to discuss the debt — an invitation all four have accepted. It comes after McCarthy for weeks has demanded a sit-down with Biden to talk about pairing a debt limit increase with spending cuts sought by the GOP — a demand Biden says he refuses to entertain.
"I will say it is a major victory for America that the day before yesterday, Biden finally blinked and said, 'Okay, I'll sit down and talk.' That's the first step. Now the second step is, let's solve the problem," Cruz said.
REPUBLICANS HAVE THE UPPER HAND OVER DEMS IN DEBT CEILING NEGOTIATIONS, BUDGET EXPERT SAYS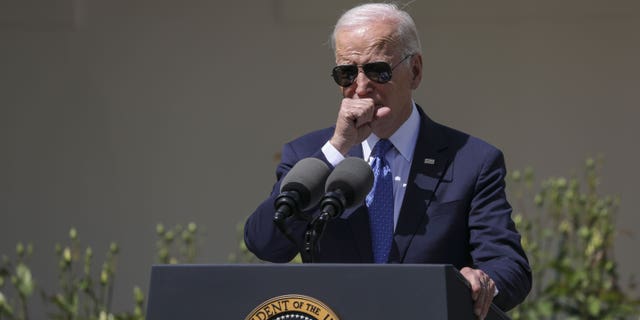 President Biden has refused to pair spending cut talks with lifting the debt ceiling. (Celal Gunes/Anadolu Agency via Getty Images)
House Republicans passed their bill on April 26 after tense negotiations in the days prior. It aims to raise the debt limit through March 2024 or by $1.5 trillion — whichever benchmark is hit first. The legislation would pair that with a cut to federal spending back to 2022 levels, which is about $140 billion to $180 billion less than this year's.
Biden and Senate Democrats have attacked the bill, claiming it would defund valuable federal programs. They have insisted on a "clean" debt ceiling increase with no conditions — something most Republicans said they would oppose.