A U.S. Air Force service member was found dead in their San Antonio home Monday morning, officials said.
Joint Base San Antonio-Lackland in Texas said San Antonio police officers discovered a deceased Air Force service member at an off-base residence just before 10:20 a.m.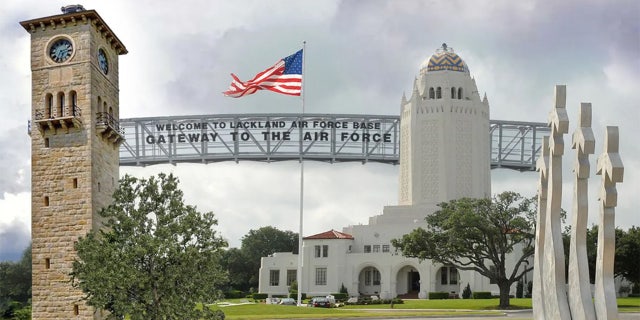 The exterior of Joint Base San Antonio in Texas. (Joint Base San Antonio/Facebook)
The officers had been conducting a wellness check on the individual when they found the remains, JBSA-Lackland said.
Officials are not releasing the individual's name until after the next of kin has been notified. The service member's death remains under investigation.
CLASSIFIED DOCUMENT LEAKER'S GUARD UNIT PULLED FROM INTELLIGENCE DUTY, SADDLED WITH 'BUSY WORK': REPORT
Fox News Digital has reached out to the San Antonio Police Department for more information.
The service member's death comes more than a month after a military service member was found dead in a vehicle parked outside the Pentagon.
Pentagon press secretary Brig. Gen. Pat Ryder said officers responded to a call for a welfare check when they found the body of the unidentified individual.
CLICK HERE TO GET THE FOX NEWS APP
Later that week, the U.S. military said it was investigating the death of a soldier at a Texas Army post that in recent years had struggled with homicide, suicide and sexual assault among its troops.