A joint statement from the U.S. Representative to the United Nations on behalf of a coalition of European countries has urged the U.N. to investigate Russia's use of Iranian drones in Ukraine.
"Earlier this month, the United States released further information documenting how Iran has provided Russia with hundreds of one-way attack UAVs (unmanned aerial vehicles), as well as UAV production-related equipment. Ukraine and the U.K. also submitted evidence to the U.N. of Iranian UAVs recovered by the Ukrainian armed forces," Linda Thomas-Greenfield, United States Ambassador to the United Nations, told reporters.
"Russia has not only procured hundreds of Mohajer and Shahed series UAVs from Iran in clear violation of Resolution 2231, but it is also now working with Iran to produce these weapons inside Russia," she continued, reading a statement on behalf of the U.S., the U.K., France, Ukraine and Albania.
"Russia has been using these UAVs in recent weeks to strike Kyiv, destroy Ukrainian infrastructure, and kill and terrorize Ukrainian civilians. Media reports indicate just this week Russia targeted Kyiv and other Ukrainian cities with dozens of Iranian-made drones," she said, adding, "The United Nations must respond to growing calls from the international community to investigate these violations."
Farhan Haq, Deputy Spokesperson for the U.N. Secretary-General, told Fox News Digital, "The Secretariat continues to analyze information received with regard to the alleged transfer of uncrewed aerial vehicles by Iran in a manner inconsistent with paragraph 4 of Resolution 2231 (2015) and will report to the Security Council in due course."
RUSSIAN WARLORD BLASTS PUTIN'S 'MISLEADING' TAKE ON UKRAINE WAR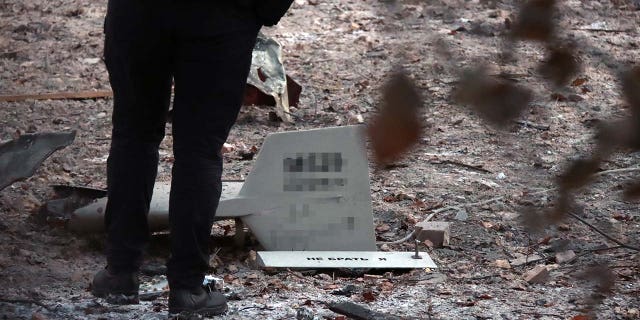 A fragment of a kamikaze drone is seen on the ground in the Shevchenkivskyi district of Kyiv, Ukraine. (Anatolii Siryk/Ukrinform/Future Publishing via Getty Images)
"The next report will be discussed at a meeting at the experts' level on implementation of Resolution 2231 (2015) in late June and then by the Council in a briefing next month," he added.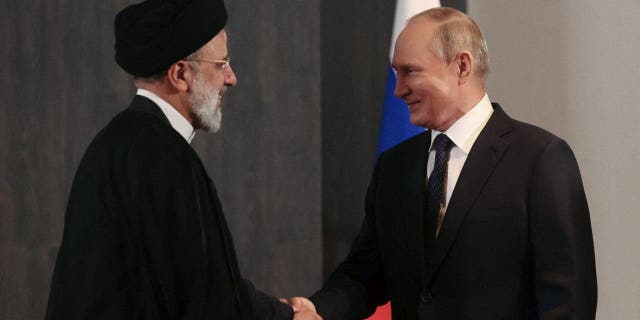 Russian President Vladimir Putin, right, shakes hands with Iranian President Ebrahim Raisi during a meeting on the sidelines of the Shanghai Cooperation Organization summit in Samarkand, Uzbekistan on Sept. 15, 2022. (Sputnik/Alexandr Demyanchuk/Pool via Reuters)
"As of May, Russia received hundreds of one-way attack UAVs, as well as UAV production-related equipment, from Iran," NSC Coordinator for Strategic Communications John Kirby said.
Kirby noted that a graphic released at the time "shows how Iranian drones are being transferred to Russia: the drones are built in Iran, shipped across the Caspian Sea, from Amirabad, Iran, to Makhachkala, Russia, and then used operationally by Russian forces against Ukraine."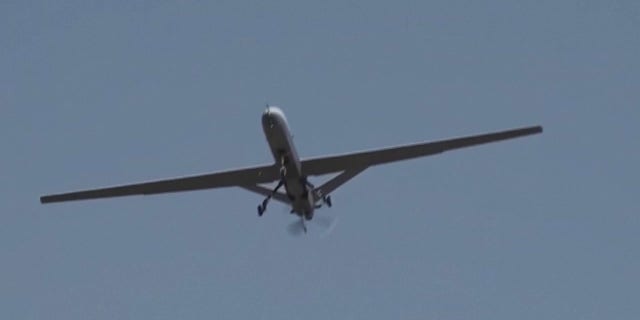 Iran showed a video of a Shahed drone in flight on Feb. 24, 2023. (IRINN via AP)
CLICK HERE TO GET THE FOX NEWS APP