EXCLUSIVE: A government watchdog group filed an ethics complaint against Special Presidential Envoy for Climate John Kerry on Tuesday morning, alleging he spread misinformation about climate change.
In its complaint, Protect the Public's Trust (PPT) alleged that Kerry violated federal scientific integrity policy — which requires officials to communicate scientific information accurately based on the best available evidence — when he said in May that greenhouse gas emissions kill 15 million people per year worldwide. PPT requested a federal investigation into Kerry's comments.
"15 million people are dying every single year around this planet as a consequence of greenhouse gas emissions in the atmosphere, in the air which travels around and drops in the form of pollution and is warming the ocean at record rates, changing the chemistry of the ocean itself," Kerry remarked on May 10 at the Department of Agriculture's AIM for Climate Summit.
"Without action, millions of lives and the livelihood of the planet is at risk," he said.
GOP OVERSIGHT CHAIRMAN PROMISES 'INTENSE SCRUTINY' OF JOHN KERRY'S SECRETIVE CHINA TALKS
According to data from Lancet Countdown and Climate Vulnerable Forum presented during the United Nations climate summit in November, climate change is expected to cause 3.4 million deaths by the year 2100. The excess deaths are expected to be caused by increased wildfire frequency, heatwaves and higher incidence of mosquito-borne tropical disease.
And a 2021 study from Harvard University published in the journal Environmental Research calculated that fossil fuel emissions are responsible for more than 8 million annual deaths.
JOHN KERRY'S OFFICE CONSULTED LEFT-WING ENVIRONMENTAL GROUPS WHILE CRAFTING POLICIES, EMAILS SHOW
The complaint further stated that conduct like Kerry's "inevitably erodes the public's trust in its scientific and governing institutions" and harms the nation "by reducing science from a great, dispassionate tool of public policy that transcends party lines to yet another political football."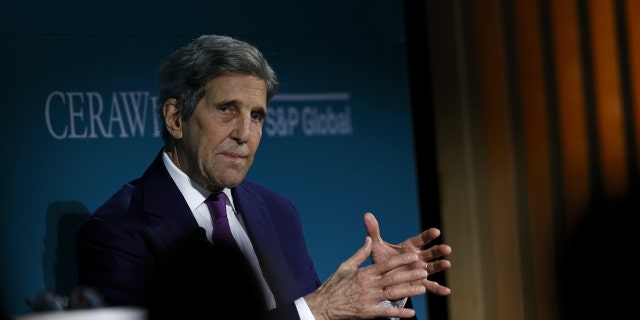 Kerry, in Houston on March 6, is accused in the complaint filed Tuesday of violating multiple federal scientific integrity policies. (Aaron M. Sprecher/Bloomberg via Getty Images)
PPT cited three policies — President Biden's early 2021 memo on scientific trust; the OSTP's Framework for Federal Scientific Integrity Policy released this year; and the State Department's own scientific integrity policy — that it said provide a mandate for officials including Kerry to communicate scientific information to the public accurately.
"It seems to have been made entirely without evidence – a phrase the American public frequently heard when evaluating statements from the previous administration – and designed to frighten the public to advance a political agenda," he said. "In short, it is precisely the sort of disinformation the administration's and State Department's scientific integrity policies were intended to prevent."
Kerry's office didn't immediately respond to a request for comment.