When it comes to nailing down Harrison Ford and Helen Mirren's looks for the hit show "1923," Emmy Award-winning costume designer Janie Bryant has got it covered.
During an interview with Fox News Digital, Bryant detailed what it was like creating a historic look for Ford and Mirren's characters — married couple Cara and Jacob Dutton.
"I'll never forget, I had my first fitting with [Ford] and he was like, 'Janie, do you have a three-way mirror?' I said, 'Of course, Harrison … let me show you. Step right here,'" she began to explain.
"He looks at himself in the mirror, has the hat on, the jacket, the chaps on. He puts his hands in his coat and he's like, 'Well, what can I tell you? This is f—ing perfect.'"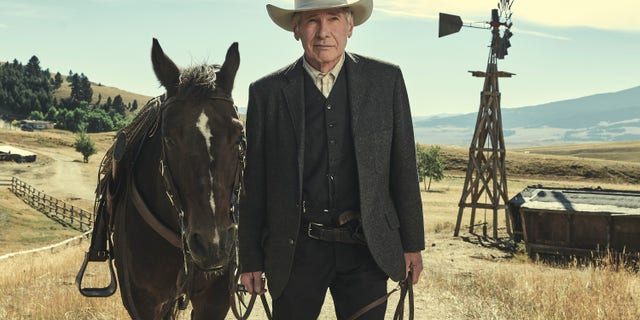 Harrison Ford stars as Jacob Dutton in "1923." (James Minchin III/Paramount+)
"One of the things that I talked to Harrison about was … he knows the importance of a hat … the certain style of [a] hat makes you famous, right? … Think about Indiana Jones and the fedora," she said, referring to another one of Ford's popular movie roles.
Fifty hats later, Bryant dished on how critical it was to provide Ford with the right accessory for the "Yellowstone" spinoff, "1923."
"This hat … for Jacob Dutton felt as important as any of those other characters created on screen," she continued.
"Both Helen and I loved the idea that Cara would be old-fashioned … so I designed her costumes that were of an earlier period, which I love, because it really illustrates that she is from a different era, which was really important," Bryant noted.
"She has long hair, she wears it in a bun. It's almost a Victorian-esque feel … I really wanted her to have those elements in her costume of being from a different period."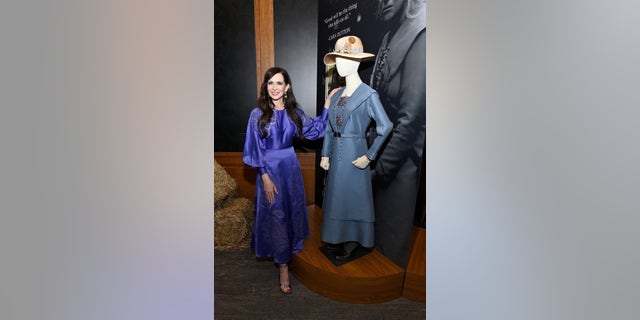 Janie Bryant photographed at the "1923" costume exhibit. (Getty Images)
Taylor Sheridan, director of "1923" and "Yellowstone," communicated to Bryant that a certain hat is critical when creating costume looks for each television character.
"I always feel like there's a lot of creative freedom in the process, which is amazing. He trusts me and relies on me to be able to do my job as a costume designer … I feel very blessed."
As for costume design challenges, Bryant pointed out that since the 1920s were 100 years ago, several of the materials — including silk — did not last, but she enjoys creating the period pieces.
Harrison Ford and Helen Mirren star as Jacob and Cara Dutton in "1923." (James Minchin III/Paramount+)
HARRISON FORD RESPONDS WITH NSFW ANSWER WHEN ASKED ABOUT CO-STAR, SAYS HELEN MIRREN IS 'STILL SEXY'
"A little bit of spice, a little bit of sweetness and being creative … diplomatic," Bryant laughed.
"I really do truly love what I do. I love working with the actors. I love the film business, too … But it's so much fun to create things that people love and really identify with, like all these different amazing characters."
CLICK HERE TO SIGN UP FOR THE ENTERTAINMENT NEWSLETTER
The "1923" exhibit is available to visit until May 28.