China on Friday once again disregarded Vietnam's exclusive economic zone (EEZ) and deployed a research ship along with five escort vessels to an area where a Russian state firm jointly operates a gas block with Hanoi in the energy rich South China Sea.
The move is Beijing's latest escalatory step in the region after it first sent in the research vessel earlier this month along with at least one Chinese coast guard ship and nearly a dozen other vessels, Reuters reported.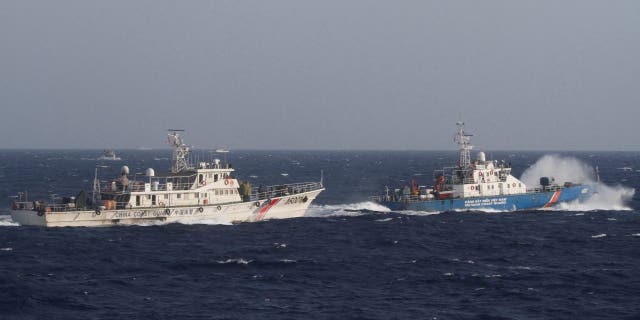 A ship from the Vietnam Marine Guard, right, is seen near a ship from the Chinese Coast Guard in the South China Sea about 210 km (130 miles) offshore of Vietnam May 14, 2014. (REUTERS/Nguyen Minh/File Photo)
TAKE THAT! PHILIPPINES SENDS CHINA MESSAGE ON CONTESTED ISLANDS AS TUSSLE BREWS
The research ship, Xiang Yang Hong 10, on Friday crossed a gas block known as 04-03 operated by Vietsovpetr, a joint venture between Russian-owned Zarubezhneft and PetroVietnam.
Vietnam on Thursday issued a rare public statement demanding that the Chinese vessels leave the area after they crossed block 129, which is also operated by Vietgazprom.
Chinese spokesperson Mao Ning responded to questions by reporters Friday following the statement and said Beijing had sovereignty over the Spratly Islands and jurisdiction over adjacent waters.
"Relevant ships of China carry out normal activities under China's jurisdiction. It is legitimate and lawful," she claimed. "There is no issue of entering other countries' exclusive economic zones."
Reuters contributed to this report.