The Floyd Mayweather Jr. and John Gotti III fight featured a chaotic end with the fighters' teams stepping into the ring in a wild melee on Sunday night, and the war of words continued on social media.
Mayweather's family appeared to face a racially charged threat on social media from Gotti's sister, Nicolette. Barstool's Jeff Nadu screenshotted Nicolette Gotti's words directed at the boxer's daughter, Yaya. Gotti has since made her Instagram private amid the uproar after the fight.
CLICK HERE FOR MORE SPORTS COVERAGE ON FOXNEWS.COM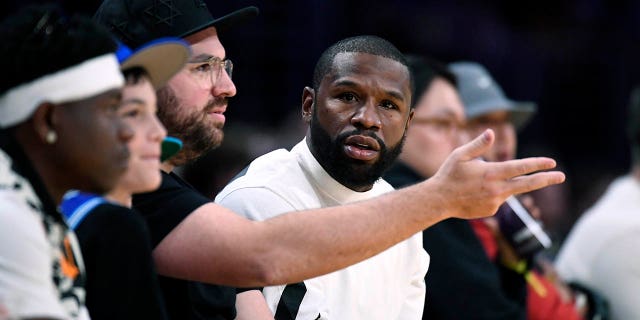 Floyd Mayweather Jr. attends a basketball game between the Los Angeles Lakers and the Portland Trail Blazers at Crypto.com Arena on October 23, 2022, in Los Angeles. (Kevork Djansezian/Getty Images)
"[Floyd Mayweather] your daughter was ran through by [an] animal with 12 different baby mamas – your little circus animal – [you're] all a pack of zoo animals," she apparently wrote, referencing rapper NBA YoungBoy, who has a child with the boxer's daughter. "I swear on my kids I'm coming for your daughter, it may be 2 years, 3 years from now but I'm coming c–t."
Mayweather and Gotti trashed-talked their way through more than half the fight with referee Kenny Bayless having a tougher and tougher time trying to separate them and stop their jawing. After Bayless stopped the fight, that's when things took an ugly turn.
Gotti started to dip around Bayless to come after Mayweather. The two then started to throw punches at each other while both of their teams stepped into the ring, where more pushing and shoving continued.
Gotti was pushed to his corner and Mayweather back to his.
Mayweather has yet to break his silence on the skirmish.