The accused Gilgo Beach serial killer had a cache of more than 200 guns at his Massapequa home, Suffolk County Police Commissioner Rodney Harrison told Fox News in an interview Monday.
"He had an arsenal in a vault that he had downstairs. It's concerning, regarding the guns being registered or legal or not, that's something we're still taking a look at," Harrison told "Fox & Friends" co-host Brian Kilmeade. "Anytime somebody has that type of arsenal we have some concerns."
Manhattan architect Rex Heuermann, 59, was arrested Thursday for the murders of sex workers Melissa Barthelemy, Megan Waterman and Amber Costello, whose bodies turned up on Gilgo Beach in 2010.
The unassuming father of two is the prime suspect in the slaying of a fourth victim, Maureen Brainard-Barnes, according to prosecutors.
Investigators knew they likely had their man after they tied a Chevy Avalanche that a witness had seen in Costello's driveway to Heuermann.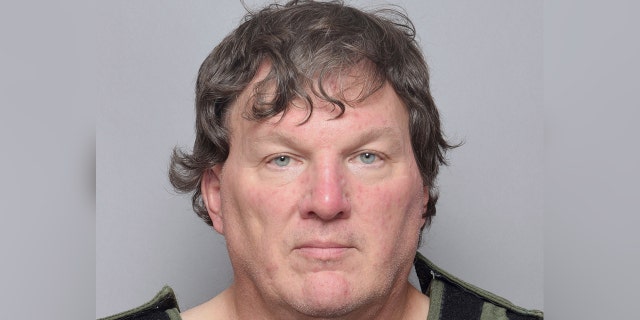 This booking image, provided by Suffolk County Sheriff's Office, shows Rex Heuermann, a Long Island architect who was charged Friday, July 14, 2023. (Suffolk County Sheriff's Office via AP)
"We found that he was an architect and some other things, and we were able to do some phone records and some other background checks and how he uses his credit cards and look at his family," Harrison said.
"He has a wife and two kids and just his lifestyle, and we started getting closer and closer and saying, 'Hey, this may be our person,'" he added.
Harrison suspects there are more victims out there and urged anyone with information to call 800-220-TIPS.
"He's an ogre," said Harrison, describing Heuermann as 6-foot-6 inches and 275 pounds. "He's a big human being, but I'm very, very glad we were able to get him off the streets."