Houston health officials are warning residents of a syphilis outbreak that is responsible for a 128% increase in cases among women.
The Houston Health Department said it has also led to a nine-fold rise in congenital syphilis in Houston and Harris County.
Statistics indicated that new infections rose by 57%, from 1,845 in 2019 to 2,905 in 2022.
The number of cases among women totaled 674 last year, which is up from 295 in 2019.
"It is crucial for pregnant women to seek prenatal care and syphilis testing to protect themselves from an infection that could result in the deaths of their babies," Marlene McNeese Ward, deputy assistant director in the department's Bureau of HIV/STI and Viral Hepatitis Prevention, said in a statement. "A pregnant woman needs to get tested for syphilis three times during her pregnancy."
The department is waiving all clinical fees for sexually transmitted infections at its health centers and expanding the use of its HIV/STD mobile clinic
It is also working with medical providers and collaborating with community-based partners to increase awareness of the outbreak and enhance testing and treatment.
Notably, those with syphilis are at increased risk of HIV infection due to the painless sore that develops at the site of sexual contact during the disease's first stage.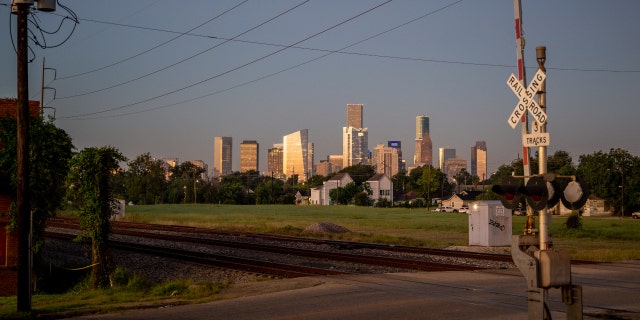 Downtown Houston is seen behind railroad tracks on Sept. 14, 2022. (Brandon Bell/Getty Images)
While syphilis is easily treatable with antibiotics, without treatment, the infection progresses to the secondary stage when one or more areas of the skin break into a rash.
Nevertheless, in most cases, syphilis goes undetected because the signs and symptoms are misinterpreted or unnoticed.